Crafts to Make and Sell for Profit: 200+ Craft Ideas!
If you are looking for creative ways to make money, this huge list of crafts to make and sell is one full of inspirational and easy crafts to make! With over 200 items – and growing as we find new cool tutorials for you to add – this is the best list of crafts to make and sell for profit!
As I was curating this list, I started to remember past farmer's markets and craft shows that I've attended. So many of the items on this list are items that those vendors were selling! I even did the math in my head as I looked at each item (as I always do) calculating the raw materials and manpower required and they are making a very generous profit!
Every crafter started somewhere for different reasons. Whether it was from a true passion in creating treats and toys for their pets, or the love to make their own friends and family members non-toxic personal care items. They each took the opportunity to take their own DIY's and sell the crafts to make a profit!
Crafts to Sell
There are truly so many great craft ideas to consider making. You will surely find something on this list to see what you are most interested in and what would fit within your startup budget.
Arm Crochet Blanket
Binky Clips
Button Crocheted Boot Cuffs
Chapstick Key Chain Holder
DIY Plant Markers
DIY Twist and Scrub Polish Remover
Easy Elastic Headband
Easy Sucker Bouquet
Fabric Chapstick Holder
Hand Sanitizer Jacket
How to Print Shirts at Home with an Iron and Printer
Monogram Clay Keychain
Rainbow Cup Cozy
Stenciled Tote Bag
Triangle Pouch
Upcycled Jewelry Holder
Wristlet Key Fob
Crafts That Make Money
Before you even begin, give lots of thought to what you want your margins and profit to be. If you are spending $10 for materials, consider how much your time is worth and price your items accordingly. Also, think back to when you saw something similar at a craft sale so you have an idea what you can price the item(s). You deserve to be paid a decent wage for these DIY crafts to make money!
American Flag Wall Decor
Blanket Ladder DIY
Clay Leaf Bowls
Concrete Vase
Distressed Painted Signs
DIY Sign
Family Math Sign
Farmhouse Tray
Faux Metal Farmhouse Sign
Flannel Blankets
Growth Chart Ruler
Hanging Mason Jar Vase
Home Sweet Home Wall Art
Letter Art
Lost Sock Plaque
Metal and Wood Anniversary Sign
Metal Letter Signs
Pallet Clock
Pallet Plaque
Palo Santo Bundles
Personalized Photo Clock
Pressed Lavender Art and French Wall Art
Repurposed Tennis Racket Photo Holder
Rustic American Flag Sign
Rustic Blessed Sign
Rustic Wooden Arrow
Song Lyric Plate
String Art
Succulent Frame
Thankful List Decor
USA Pallet Sign
Welcome Sign
Wine Rack
Winter Woodland Sign
Wood Letter Decor
Wood Pallet Sign
Custom Wood Signs DIY
Wooden Journal
Things to Make and Sell from Home
One of the benefits to making crafts from home is that you get to be *at home* working! If the margins aren't exactly what you were hoping for you also have to consider that you getting to make your own hours to run a business. That is one of those priceless benefits.
You can also get your process streamlined well while being at home and start to make items in bulk. This is an area that my husband is a HUGE support since his day job is to optimize operational output. I've had to ask him to settle down with all of his suggestions a few times as he's watched me work less than efficient, apparently. :)
Bath Bomb Fizzy Bath Powder
Bath Bomb Recipe
Body Wash
Coconut Bubble Bath Salts
Coffee Sugar Scrub
DIY Lip Scrub
Gemstone Soap
Grapefruit and Lime Lip Balm
Homemade Bath Bombs
Homemade Bath Bombs
Homemade Gardener's Soap
Homemade Shower Melts
Homemade Soap Recipe
Homemade Toilet Cleansing Discs
Lavender Shower Melts
Lemon Poppy Seed Soap
Lemon Sugar Scrub
Lemongrass Bath Salts
Lotion Bars
Makeup Bags
Mica Powder Lip Stain
Orange Bath Salts
Orange Flaxseed Soap
Orange Vanilla Bath Salts
Peppermint Sugar Scrub
Rainbow Soap
Scarlet Mica Powder Soap
Shower Melts
Spray Deodorant
Sugar Scrub Bars
Unicorn Bath Bombs
Vanilla Orange Bath Salts
Whipped Body Butter
Yellow Sun Bursts Bath Bombs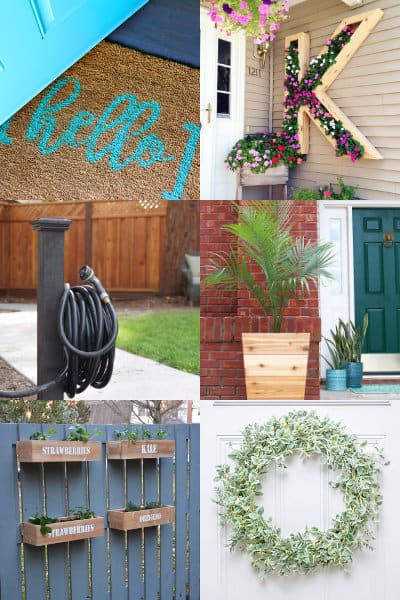 Hot Craft Ideas to Sell
Different seasons create higher trends or "hot" crafts that will sell well. There is a different season for Christmas crafts to sell, since those most likely won't sell well with any Halloween crafts. Craft ideas to use during the Summer months will most likely sell better during that timeframe. Don't spend your time and money creating crafts that may not be in season for whatever craft sale you may be attending.
Citronella Candle
DIY Wax Warmer Cubes
Happy Camper Pot Holder
Headband
Homemade Fabric Softener
Homemade Laundry Detergent
Homemade Toilet Bowl Cleaning Discs
Homemade Vanilla Extract
Hot Handle Holder
Hot Handle Pot Holder
Lemon Beeswax Candle
Pour and Melt LEGO Soaps
Stamped Wooden Utensils
Autumn Wreath
Baseball Wreath
Carpenter Bee Trap
Come Back with Tacos Welcome Mat
DIY Mailbox
Easy DIY Planters
Easy Faux DIY Boxwood Wreath
Farmhouse Wall Planter
Garden Art
Garden Hose Hiding Outdoor Planter
Garden Hose Holder
Hanging Fence Garden Boxes
HELLO Welcome Mat
HOME Welcome Mat
Modern Minimal Wreath
Monogram Planter
Succulent Turtle
Table Top Fire Bowls
Tall Garden Planter
Tapered Cedar Planters
Versailles Planter
Wood Flag Wreath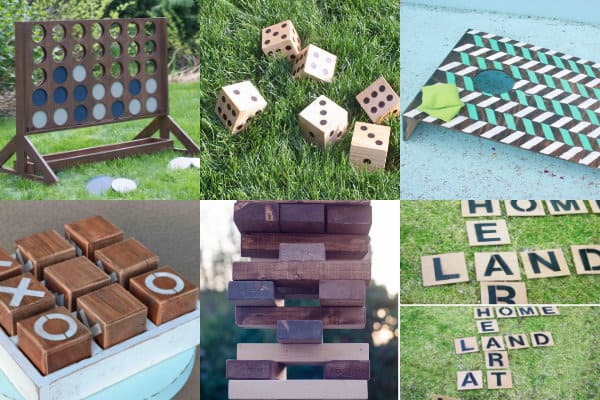 Crafts to Make and Sell from Home
The sky is truly the limit with crafts you can make and sell from home. Find a need out there that you yourself have had in the past. That's where some of my best ideas have come from through the years! I guarantee you someone will buy it! If you have a need, most likely someone else does also.
Backyard Four-in-a-Row (Connect 4) Game
Backyard Plinko Party Game
Backyard Scrabble
Cornhole Bean Bags
Cornhole Boards
Giant Jenga
Giant Kerplunk Outdoor Game
Giant Lawn Dominos
Ladder Golf Game
Oversized Tic Tac Toe
Scrabble Tiles
Wooden Yard Dice
DIY Crafts
Truly all of these ideas are a DIY, which makes them that much better! You are creating something for yourself and by doubling or quintupling the supplies and materials, you can have some to sell! Your time will most likely be around the same to create multiples or additional batches. When you work more efficiently, you really begin to realize even more profit!
3-Ingredient Salmon Cat Treats
Adjustable Dog Collar
Anti-Flea Dog Shampoo
Blueberry, Banana and Flax Frosty Paws Dog Treats
Breath Freshening Dog Treats
Burrow Dog Bed
Carrot And Banana Natural Dog Treat
Cat Bow Tie
Chicken Sweet Potato Dog Treats Recipe
Crunchy Tuna Cat Treats
DIY Dog Bandana
DIY Dog Bed
DIY Doggie Breath Mints
Dog Collar
Dog Leash
Dog Treat Holder
Dog Waste Bag Holder
Doggie Peanut Butter and Tummy Soothing Pumpkin Balls
Drawer Dog Bed
Easy Homemade Cat Treats
Elevated Dog Bed
Felt Bow
Flea Prevention Dog Treats
Grain Free Sweet Potato Dog Treats
Healthy Homemade Dehydrated Dog Treats
Homemade Dog Shampoo
Homemade Flea Prevention Dog Treats
Homemade Salmon Oat Cat Treats
Mud Puppy Cleaning Mitten
No Flea Dog Biscuits
No-Sew Dog Bow Tie Collar Slide
No-Sew Pet Bed
No-Sew Wedding Bow Tie
Paracord Dog Leash
Paw Balm for Dogs and Cats
Pet Bed
Pet Bowl Stand
Pet Coat
Rope Ball Surprise DIY Dog Toy
Snuffle Activity Mat
Spinach, Carrot And Zucchini Dog Treats
Tug-of-War Dog Toy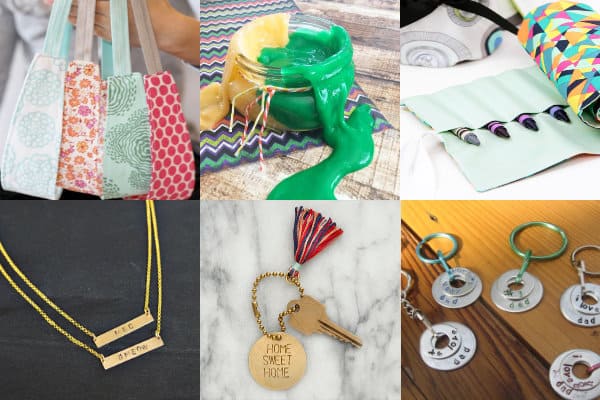 Sell Things Online
Some of these items would do very well if you wanted to sell them online. Especially the items that are smaller as it makes shipping cheaper and much easier to send. In my other post, Best Ways to Make Money with Crafts, I touched on the different ways you can market and sell your crafts. Definitely check out that post as there are lots of tried and true ways to sell your things online!
Bridesmaid Gift Box
Candied Pecans
Chunky Chocolate Cookie Mix
Chocolate Chip Cookie Cake
Country Six Bean Soup Mix
Cranberry Pecan Muffin Mix
Deluxe Oatmeal Cookies
Easy Gift: Not Your Average Wine Basket
Easy Playdough Recipe
Football Cookie Pops
Fruited Rice Mix
Glittery Gem Chocolates
Italian Tomato + Pasta Soup Mix
Oatmeal Raisin Spice Cookie Mix
Peppermint Hot Chocolate Mix
Pork Rub Mix
Raisin Oat Scone Mix
Rosemary Infused Olive Oil
Salted Caramel
Tea Bouquet
Hand Stamped Necklace
Stamped Brass Keychain
Stamped Jewelry
Stamped Keychain
Stamped Leather Bracelet
Stamped Washer Necklace
Activity Bags
Baby Blanket
Coloring Book Crayong Bag
DIY Car Seat Cover
DIY Farmhouse Doll Bed
Homemade Moon Dough
Homemade Play Dough
Homemade Slime Recipe
Liquid Chalk Paint
Rol-Up Organizer

How to Make Money
Don't forget that you can also make great money from home by offering services and goods. Check out the many comprehensive posts we have done through the years on How to Make Money. There are so many legitimate opportunities you can start with very little to no money required up front!
As for Crafts to Make and Sell for Profit, as I find other cool DIY crafts that I think would do well as a home-based business, I will update this list. Helping my friends – and you – find ways to add income to their family is truly a passion of mine. I always go the extra mile to support these businesses myself because I know it can literally mean a family can have a movie-night out once in a while. This type of income has also been a blessing for our family as well!
Disclosure: This post contains a link to an affiliate and support this site. See my Disclaimer Policy for additional information.