How to Print Shirts at Home with an Iron and Printer

This DIY will guide you through the steps to print shirts at home with an iron and printer. You will need a few supplies to make this one but they are inexpensive. These would make a great affordable gift!
Making your own shirt designs at home is easier now than it's ever been! Whether you use a Cameo or Cricut to create your own design, or purchase one of the thousands of creative pre-made designs on Etsy, it is so easy to have that design onto a t-shirt in no time at all!
Make sure you're using an Ink Jet printer with the recommended transfer paper listed below.  Always remember to mirror your image when printing as well so it transfers correctly.
What You Need to Print T-Shirts at Home
How to Print a T Shirt
Design
Go to avery.com/print and customize your design, using our free templates and online design tools.
Design image normally as you want it to appear. Note: Image will be flipped in print preview.
Print
Test print your design on plain paper before you feed the iron on transfer sheets into the printer to ensure the design looks accurate.
Feed one iron on transfer fabric sheet at a time.
Trim Material
Cut out the design with a narrow margin around image.
Keep edges rounded (if possible) to avoid lifting during ironing and washing.
Prep Workspace
Place a pillowcase down on a hard, heat-resistant surface, not an ironing board. A wooden table is best.
Make sure iron does not have water in it and steam setting is 0.
Set iron to cotton setting and preheat for 5 minutes.
Iron the pillowcase and garment to remove wrinkles.
Use extreme caution when ironing. Avoid leaving iron face-down on ironing surface for extended period of time as it may result in injury or damage to the project or ironing surface.
Ironing
Place transfer design down on the garment in the desired location.
Iron the transfer, applying firm pressure slowly from left to right and then from top to bottom.
Be sure to iron over the edges.
Turn off iron when finished.
Finish Transfer
After ironing, remove your garment from the heating area and allow to cool for 2 minutes.
Smoothly and slowly peel backing paper away from corner to corner.
If image begins to lift, re-iron image focusing on lifting areas. Allow to cool once more before attempting to peel again.
Care and Maintenance
Wait 24 hours before washing garment.
Wash garment before wearing:
– Turn garment inside out and machine wash cold separately from other clothes.
– Use color-safe detergent and remove promptly from the washer.
– Colors may bleed if left wet too long. Do not use bleach.
– Tumble dry low with garment turned inside out.
– Do not iron directly on transferred image after it has been applied to the garment.
– The transferred image is not intended to withstand stretching other than normal wear and tear.
Finding Designs to Make T Shirts
As I said at the start of the post, Etsy has TONS of pre-made designs you can buy that are truly amazing! Definitely check out the sellers there – designs are usually around $1-3 each so super cheap for your personal use! The Cameo and Cricut communities also have fun ideas to create your own with those awesome tools.
Free T-Shirt Design
If you like the design and saying above, you can download it now for FREE (non-commercial or personal use only)!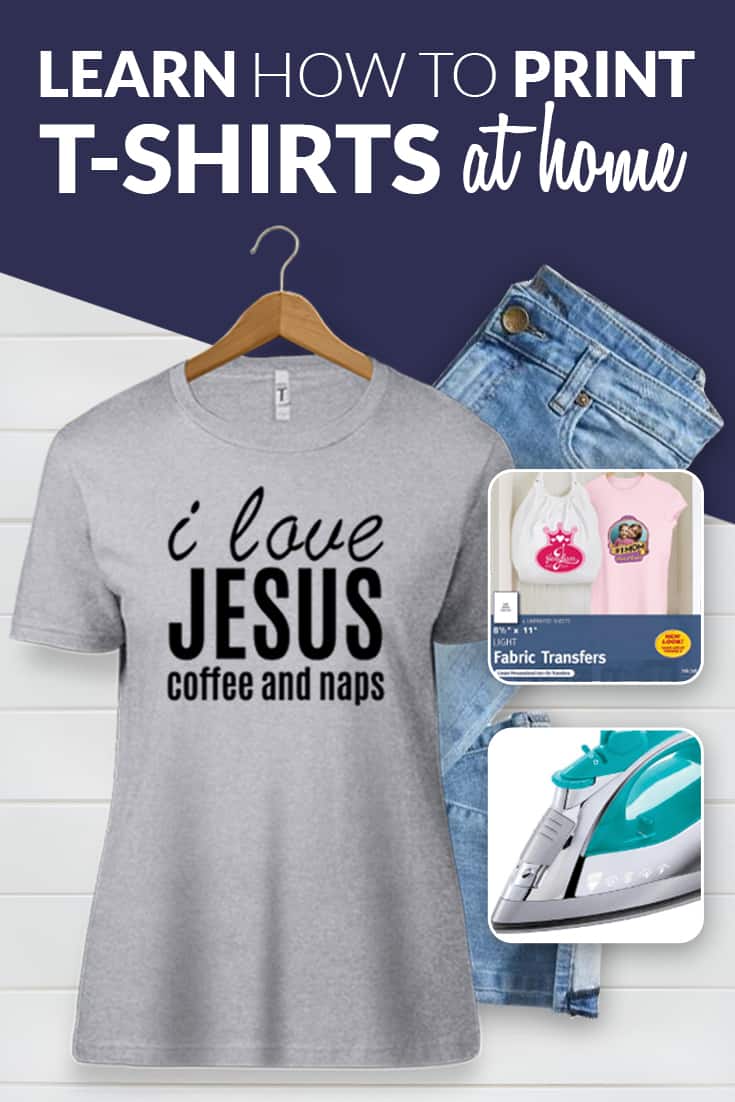 Disclosure: This post contains a link to an affiliate and support this site. See my Disclaimer Policy for additional information.