Shop Online and Get Paid!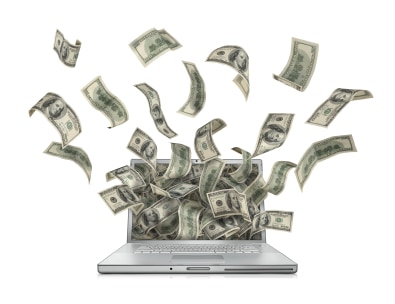 There are several sites I use to shop online and get paid cash back! These sites are completely legitimate (as are all the resources I share with you). I have earned hundreds in my own shopping online that I sometimes never go to the mall (I'm not a big shopper anyway).
The biggest thing I get when I share this with people is how it makes sense. I mean, these companies are just freely giving us money out of the goodness of their hearts? Not exactly, but they are sharing with us! Let me explain some of the logic.
Retailers want you, the consumer, to shop online. They will pay advertising dollars to companies called *click-thru* sites. These are sites that you visit, click on a link and shop at the online store of your choice. When you make a purchase, that *click-thru* site gets paid advertising dollars for you clicking on the online store at their site. In return, they can give you a portion of their earnings in the form of a percentage or flat cash back.
Here's an example of Rakuten (formerly Ebates), a popular cash back *click-thru* site that I use a lot:
Ebates offers 3% cash back at Old Navy. This 3% cash back is for the total purchase amount. To get this cash back amount, I would click on Ebates, then go to the Old Navy link. I then click on that link at Ebates and I will be taken directly to Old Navy to make my purchase.
The details of this transaction are followed through cookies so Ebates knows I actually made a purchase. Old Navy may share the purchase information with Ebates in order to confirm the actual purchase amount to offer as cash back. The cash back shows up in your account within a few days.
So, you see, Ebates is still getting a cut, but they are sharing a portion with you because you are choosing to shop online and *click thru* their site so they can earn too!
Another great benefit of using these sites is you can refer your friends! Many sites have a referral program so you can earn a bit if your friends sign up under you – that's the beauty in it! You share the great money-saving tip with your friends and you earn a few bucks.
Some popular sites I personally use are:
Now, there are many other sites out there, but I only share the sites that I have personally had success with. If I see other sites that are similar or offering great bonuses (i.e., sign-up or referral bonuses), I will be sure to pass along the information for you to take advantage of too! See the post on Earning Referral Credit Without a Blog for some tips!
Disclaimer: This post contains a link to an affiliate. See my Disclaimer Policy for additional information.