Thank You Delivery Drivers Snack Sign – FREE Printable!
Download this free printable and use it with your basket of snacks this season for the delivery drivers in your neighborhood!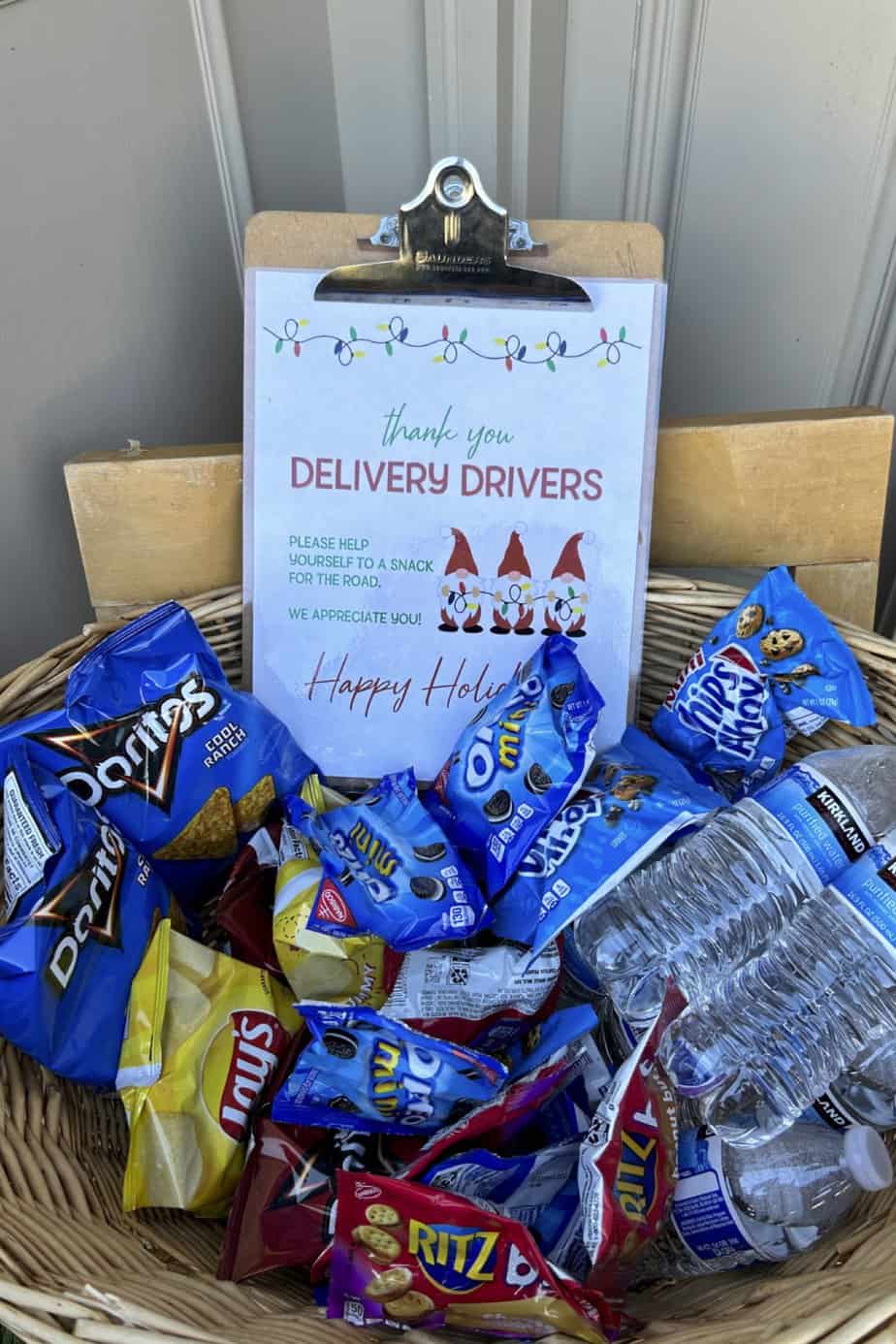 The delivery frenzy has began at our house with Christmas is right around the corner. They really are the VIP's during the holidays since they make sure our packages get delivered on time day after day! During this time of the year it's not unusual that UPS, FedEx, Amazon and USPS will each drop off packages in the same day. What can I say? I do a lot of online shopping – I know I'm not alone here!
I do so much shopping online and also have a lot of work deliveries for my other two businesses, that I know most of our delivery drivers first names. They know all about my unique online business since the packages are aplenty ALL year long. I mean, think about it, we see these delivery drivers sometimes MORE than our own family members!
We designed this delivery driver snack thank you sign that you can download for free. During this time of the year, especially I know they are working loooong hours and our delivery driver snack basket is just one small way we let them know that they are much appreciated!
Delivery Driver Thank You Sign Instructions
Print the Delivery Drivers Snack Sign Thank You Sign.
I laminated ours (with this laminator) which is optional. The lamination will protect it from wind and shuffling in the basket.
I put the sign on an old clipboard for more stability in the basket.
Load up the basket with snacks and drinks daily to ensure there is a good selection for them!
Delivery Driver Thank You Basket Tips
We fill our basket with non-perishable snacks that are tightly packaged work the best. We just grab snacks in bulk from Costco like variety pack of chips and also a variety of cookies (Amazon has both pretty cheap).
If you're in an area where the critters like snacks too 😅, you can put the snacks into something with a lid like this square patio storage box (which should fit most smaller spaces) or a good ole' cooler. We don't have more than the occasional squirrel in our neighborhood so an old basket works for us!
Do you do this too? What types of snacks do you add to your basket?
I'm always tickled when I see them on our ring doorbell and hear them say thanks. Honestly, I'm sure I get more out of this than they do.
More Projects