Reindeer Hot Chocolate Mix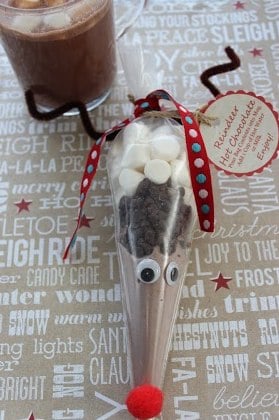 Here's another easy gift that would be cute for a classroom party. It's easy enough that the kids could put it together in the classroom themselves! Print off a sheet of these labels to go along with all of the supplies.
Reindeer Hot Chocolate Supplies
2 Piping Bags
1 envelope, Hot Chocolate
2 Tbsp, Mini Chocolate Chips
1/3 cup, Mini Marshmallows
1 Red Pom Pom Ball
2 Googly Eyes
1 Rubber band
1 Brown Pipe Cleaner
Glue
Ribbon

Reindeer Hot Chocolate Directions
Pour hot chocolate mix into piping bag (get it all the way into the tip).
Twist Bag Closed and wrap with the rubber band.
Trim off the top of bag.
Put Bag into another Piping Bag and flatten.
Layer in mini chocolate chips.
Add layer of mini marshmallows.
Twist and tie off with ribbon.
Glue Pom Pom Nose near tip of bag.
Glue google eyes Near the top of the hot chocolate mix.
Wrap Brown Pipe Cleaner around top for antlers and shape.
Print
Reindeer Hot Chocolate Mix
Reindeer Hot Chocolate Mix
2

Piping Bags

1

envelope, Hot Chocolate

2 Tbsp

, Mini Chocolate Chips

1/3 cup

, Mini Marshmallows

1

Red Pom Pom Ball

2

Googly Eyes

1

Rubber band

1

Brown Pipe Cleaner
Glue
Ribbon
Instructions
Pour hot chocolate mix into piping bag (get it all the way into the tip).
Twist Bag Closed and wrap with the rubber band.
Trim off the top of bag.
Put Bag into another Piping Bag and flatten.
Layer in mini chocolate chips.
Add layer of mini marshmallows.
Twist and tie off with ribbon.
Glue Pom Pom Nose near tip of bag.
Glue google eyes Near the top of the hot chocolate mix.
Wrap Brown Pipe Cleaner around top for antlers and shape