Buying Used Appliances: Tips for Buying a Used Freezer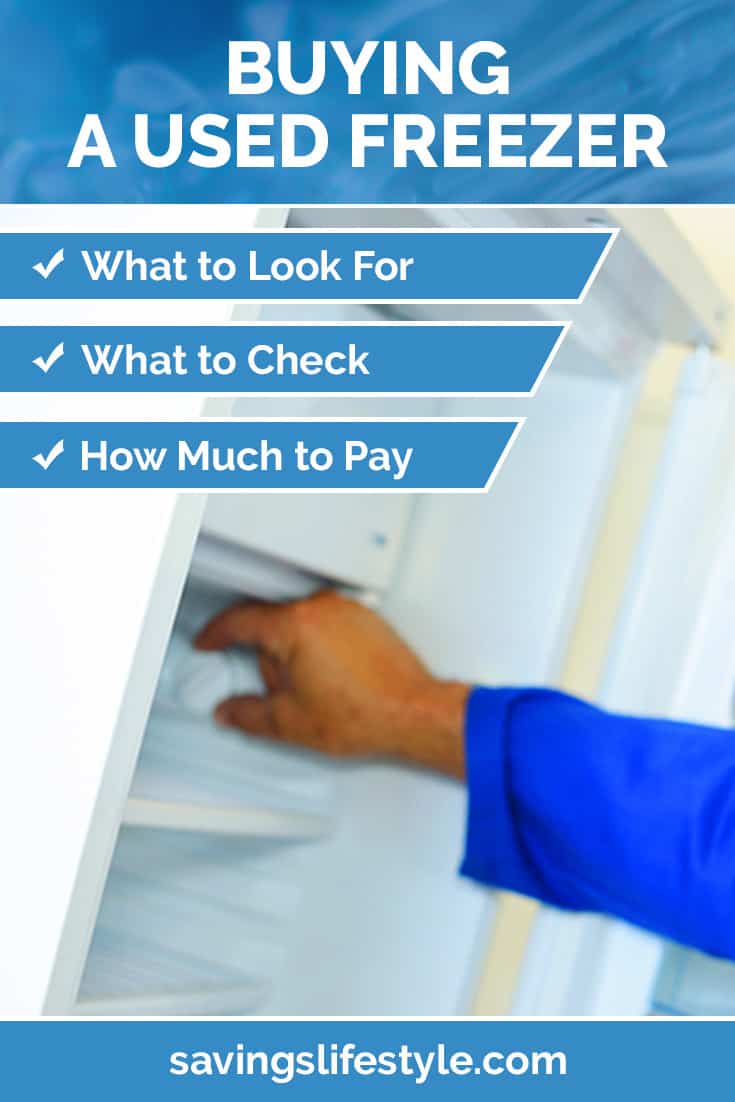 Buying used appliances can be risky. Most people don't understand the components that are in appliances, not to mention specific appliances like refrigerators, washers, dryers, stoves, and more.
We have purchased several used appliances, and this post will discuss what we looked for specifically when we purchased our used freezer that is still going strong nearly 5 years later!
The stand-up freezer was a purchase we wanted to make for quite some time, primarily to store our grassfed organic side of beef bulk purchase.  I didn't feel the need to purchase a brand new freezer. I rarely feel the need to buy *many* things new at this point in my life since I am a sucker for a good QUALITY deal.
So, what is any good deal-loving person to do? See what was for sale on Craigslist (or the Facebook marketplace now).
Finding a Used Freezer
I immediately went to search at Craiglist.com for freezers that were listed in our area. We found several options and called just one to schedule an in-person review for potential purchase.
I've never purchased anything from Craigslist before. I have sold on Craigslist many times. I know all the safety rules to follow but just in case you don't, the most important rule in my opinion is to NEVER visit any location by yourself! Likewise, never allow anyone to come pick up anything you are selling when you are home alone. It's too risky and saving a few bucks isn't worth putting yourself in a dangerous situation.
Buying on Facebook Marketplace
We're currently trying to find a mini fridge and prefer to use the Facebook Marketplace to find reliable used appliances. If you time your purchases right, especially with colleges finishing for the semester, internships or job assignments being completed (usually around the Spring and Winter), you can get a sweet deal on a nearly-new appliance!
We have found some of the better deals during the Spring and Winter timeframe. People just want to offload their items so they don't have to move them back home or worry about haggling over prices. Set alerts for certain items you want because these types of deals can get snatched up really fast!
Purchasing a Used Freezer
My husband met me at the location. Luckily, it was a car repair shop (sort of shady looking too). When I called to arrange the pickup, I asked the owner to place a pitcher of water in the freezer so I could see the ice for myself to ensure it worked.
Since I know there are ways people could lie about this, my husband also had something else to help. In his job, they used these laser looking thingamajigs to test the temperature. He brought one from work to use to test the inside of the unit.
But what should the freezer temperature be? Well, that varies. Of course I searched on google and many resources said anywhere from 32-50 F so that was the reading we were looking for. After he pointed the laser device on several areas in the freezer and the reading came back around that temperature.
Another area to focus on if you purchase a used freezer (or refrigerator) is the seal. You want to make sure the door seals tight. If it doesn't you will need to add a new one or risk having your food thaw out on you.
The seal is fairly easy to replace, but you need to know if it will need replaced before you start to negotiate the price. On my Facebook update, Wendy  suggested putting a dollar bill in the door when it closes. If it pulls out easy, the seal could be going bad. Ours seemed loose with that but it's actually fine and we haven't had to replace the seal at all.
After doing our mini review, we were confident we wanted to purchase the freezer.
How Much to Pay for a Used Freezer
When I scheduled the time to review the freezer, I didn't even ask about the price other than confirming that the listing was still current. I knew when I got them in person I would negotiate. And I did.
We went with the amount of cash we were willing to spend on the freezer. Actually, I ended up bringing less than what we were going to spend. If I remember right, there was a miscommunication between my husband and I. I brought less cash since I thought he would have some as well. He didn't. :-)
After we knew we wanted the freezer, we asked the seller if he would take $50 less. The owner himself wasn't there so someone else had to call him and do the negotiating for us. He said he would only come down $25 dollars. I was fine with that since it is a commercial grade freezer and it really didn't seem to have been used at all (it was pristine on the inside). We paid $250 for the freezer which would retail new for at least $600.
This was a fantastic purchase for our family. I have been purchasing more food items at the wholesale stores, and we purchased another side of beef last Fall. This has allowed us to save more on our grocery bill since we can purchase more items in bulk and keep our personal "inventory" in stock at all times!
Ways to Save Money on Groceries