Cooking from scratch is a great way to stretch your budget a little further. Making homemade food also lets you control what your family is eating. There is a common misconception that cooking from scratch is hard or takes a lot of time. This is actually false. Cooking from scratch is fairly easy and once you get used to it you will be a pro! You will also come to see that homemade food taste so much better than store-bought.
Tips to Getting Started
Do not overwhelm yourself when you first start cooking from scratch. Pinterest shows us wonderful from scratch recipes, but it's easy to end up feeling overwhelmed. Remember that practice makes perfect! The first time you cook bread, bagels or anything else it might not come out perfect. Cooking is an art and it will take practice to get it just so.
Read 5 tips for easy weeknight meals.
You Don't Have to Cook Everything
Don't feel like you have to cook all of your food items from scratch. There are certain items that your family might like to enjoy on a rare occasion. It is okay to buy store-bought. However, for items your family uses on a regular basis or for products that are full of GMO's and other unhealthy ingredients, I suggest making them from scratch.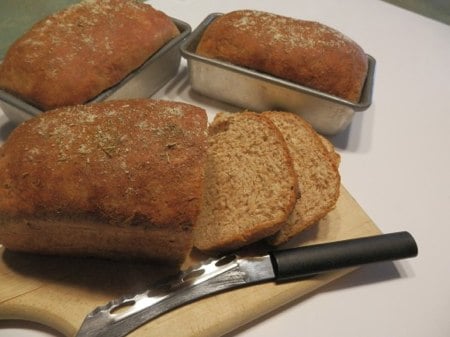 Check out this recipe for Rosemary Bread.
Trust Your Source
Pinterest is full of great ideas but a lot of the time that is all they are, ideas! If you are new to cooking from scratch feel free to search Pinterest for inspiration but I suggest going to trusted recipe sites for the actual recipe. You would not want to waste time or money on a recipe that doesn't work.
Learn 6 tips for making freezer meals a success!
Compare the Price
Don't be afraid to compare prices against store-bought and homemade. If you can score spaghetti noodles on a great sale, then by all means don't feel like you have to make them from scratch. Focus on making items that save you money, time and are healthier for your family. Cream of soups, taco seasoning and bread are just a few of the items that are typically cheaper and healthier from scratch.
Make this easy Turkey & Noodle Soup and gift it if you want too!
Get Creative 
Once you get used to cooking from scratch, start getting creative. Think of all the things your family eats and start finding homemade alternatives. I have provided a list below of 50 items you can cook from scratch, but this really is just a small list in comparison to what you can make. All of those boxed foods on the market are also great to recreate from scratch.
We will have several homemade recipes for many of these items coming in the upcoming weeks too!