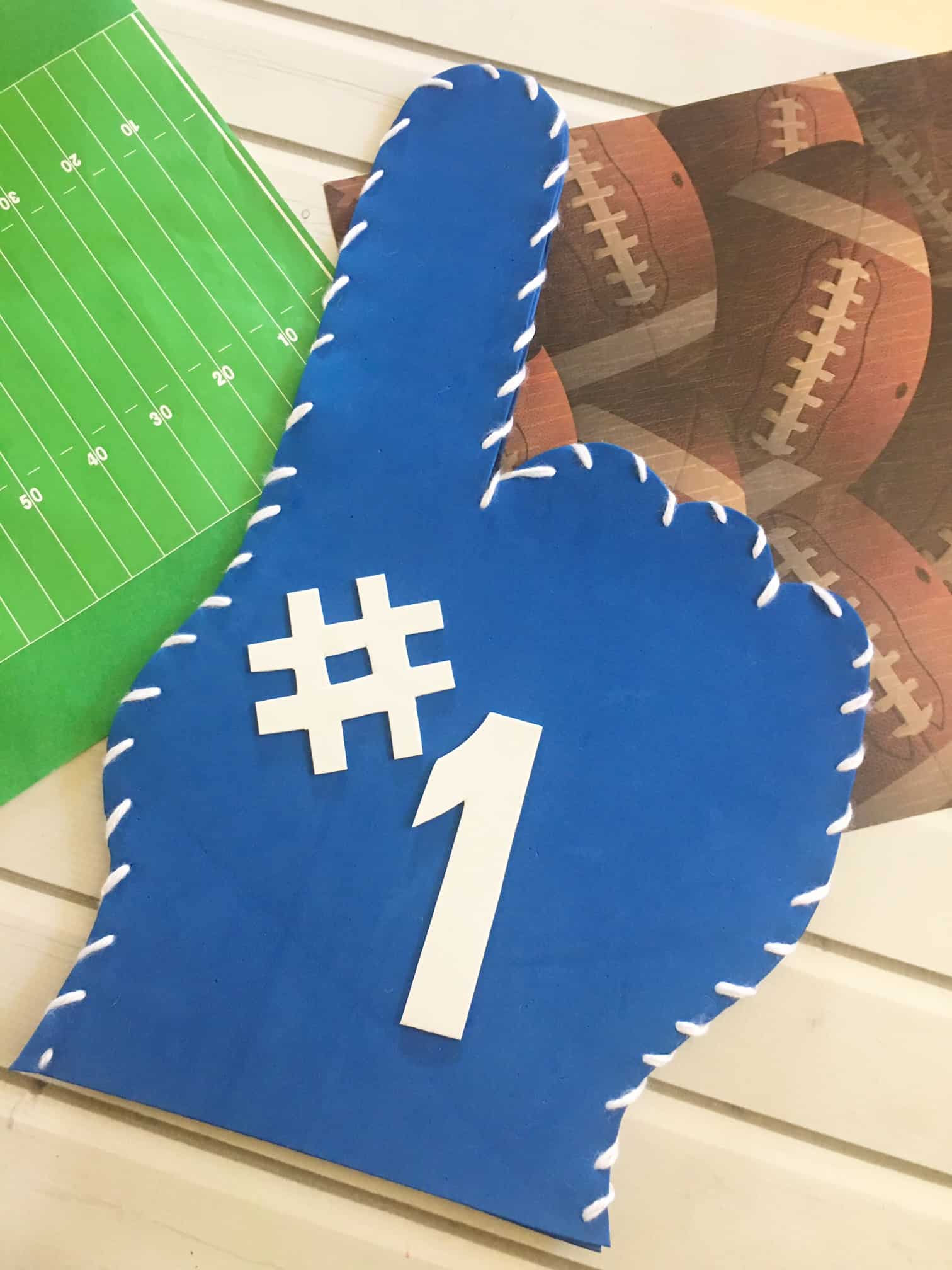 I've been a proud Sports Mom now for so many years! Our oldest son recently graduated high school and now runs collegiately. I remember back to the days of the very first sport he participated in – organized soccer! We did t-ball the next season and it was only one season any of our boys ever played baseball!
After those first few years, it was mainly basketball and football for our family. Until our oldest started running only his Sophomore/Junior year of high school, and now the kid is running in college. After all the years sitting in gym after gym for select basketball, you just never know how things will turn out!
At this point in our lives, we are a football, cross country, basketball and track & field family. I love it all so much! It doesn't matter what sport or season we are in, I know we all want to show our spirit to support our favorite athletes! This easy DIY foam finger is something you can make for each sport and each season – school or select!
DIY Foam Finger Supplies
(2) 12×18″, Blue Craft Foam Sheets
(1) 12×18″, White Craft Foam Sheets
White Yarn
Yarn Needle
Elmer's Glue
Permanent Marker
Scissors
DIY Foam Finger Instructions
Place your two blue foam sheets together and use a permanent marker to draw a foam finger outline from the 12″ side drawing upwards with a bump for the thumb, one long pointer finger and 3 more bumps next to the pointer finger for your other three fingers and cut it out with scissors (make sure the two sheets are even while cutting).
Thread your yarn needle with a 48″ piece of white yarn and begin sewing the edges of your foam finger together using a basic hemming stitch but leave the bottom open. (you will need to rethread your needle about halfway through). Cut and tie off any loose ends.
Draw a large number 1 and a large # and cut them out with scissors.
Glue your #1 to the front of your foam finger and let dry.
This would be an easy craft for the moms to make while sitting at practice. Or, the cheerleaders could make them as a team craft! I would LOVE to see any pictures if you make one of these. Please share them over on this Facebook page I made for all things Sports Moms PLUS! One of my most favorite things in this world is to watch our boys compete in what they love!
Be sure to pin this on Pinterest and save for later!

Disclosure: This post contains a link to an affiliate and support this site. See my Disclaimer Policy for additional information.