Copycat Long John Silver's Chicken Planks Recipe
I worked at a shoe store during college. I often frequented the Long John Silver's during lunch breaks. I would always get their chicken planks, hush puppies, fries and a large pink lemonade. Ahhhh, to be young and able to consume all the greasy foods again.
Well, I can't remember the last time I visited a Long John Silvers! This copycat recipe will have to do to fix my craving for that chicken. I'm sure this has to be healthier. In my head anyway!
Copycat Long John Silvers Chicken Planks Ingredients
1 lb Chicken Tenderloins
3/4 cup, Flour
2 Tbsp, Cornstarch
1/4 tsp, Baking Soda
1/4 tsp, Baking Powder
1 tsp, Salt
1 tsp, Sugar
1/4 tsp, Onion Powder
1/4 tsp, Garlic Powder
3/4 cup, Water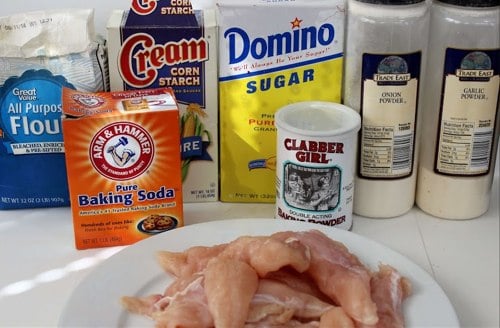 Copycat Long John Silvers Chicken Planks Directions
Combine dry ingredients in a bowl and mix well.
Add water and stir until well combined.
Heat oil to between 360 and 375.
Dip fish or chicken in batter to coat completely.
Deep fry for until golden brown (about 3 minutes per side).
by Savings Lifestyle: Andrea on June 17, 2015