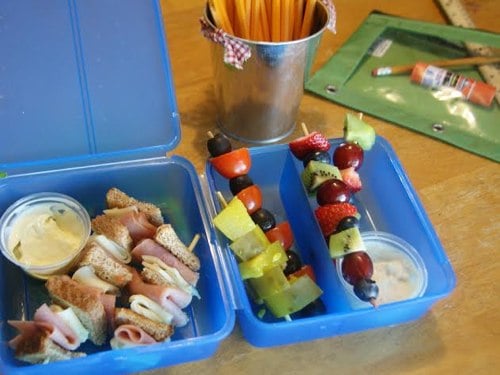 How could anything on a stick not be fun? How about an entire lunch that way? There are 101 or more combinations you can make, don't rule anything out, there a lot of healthy and tasty lunch items that make a perfect kabob for lunchtime fun.
For the lunch pictured above we have proteins, fruits and veggies – the perfect combination!
Ham, Swiss, and whole wheat bread.
Black olives, and cherry tomato halves.
Strawberries, blueberries, kiwi, and grapes.
For best results lightly toast bread before spearing. You can also include a dipping sauce for the meats: 1 Tbsp Mayonnaise and 1 tsp spice brown mustard.
Here are some ideas for things to put on a stick
Ham and Cheddar
Turkey and Swiss
Bacon, Lettuce, and Tomato
Pepperoni and Mozzarella, with toasted English muffin pieces
Hot Dog, Bun and Cheese Cubes
Grilled Cheese Bites
Antipasta Kebab with large pasta shells, Ziti, Tomatoes, Black Olives and Pepperoni or Salami
Fruits: watermelon, grapes, blueberries, strawberries, pitted cherries, cantaloupe, honeydew, kiwi, banana, pears. Toss fruits on lemon juice so they don't brown.
For a healthy fruit dip I combine 2 Tbsp plain or vanilla Greek yogurt with 1 Tbsp honey and ¼ tsp. of cinnamon.
As you can see, the sky is the limit! Add whatever your kids enjoy onto a stick and they will enjoy it that much more!