How to Make Cheap Furniture-Moving Coasters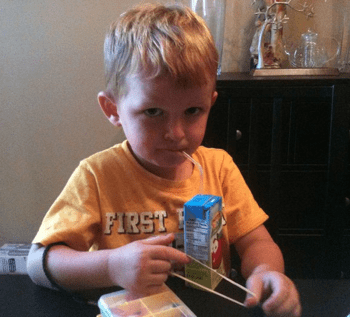 Andon enjoying the free sample we received from Vocalpoint for Mott's for Tots.
The following Everyday Savings Tip comes from, Lori:
Don't spend money on those coaster-type furniture movers! If you have a large piece of furniture that you need to move, simply cut large pieces of laminated cardboard (look for boxes that toys, housewares, juice boxes, etc. come in) and place one under each leg with the laminated side down. Now the furniture will glide across the floor in the same manner as those pricey coasters.
I've used this method successfully to move large dressers and buffets without the help of anyone.
---
Do you have a simple DIY that helps you save?
Share your tip in Everyday Savings and be entered to win $50 this week!
Read the other great Everyday Savings Tips here.