5 Tips for Frugal Tailgating
Tailgating is a natural part of the fall season and football fans across the country will be taking part. Some of those fans will be celebrating while saving cash and some will be throwing money down the drain. The difference is largely about who is willing to put in a bit of extra effort to save. If you want to have a great tailgating party without spending a fortune, here are five key areas to focus on:
Plan Your Party and Make a List
Never go into a tailgating party without putting in some thought. There are many questions you want to ask yourself first to stay organized. Some important ones to consider include:
How many people are coming?
What are they bringing if anything?
Are we providing spirits?
Are we cooking with gas or charcoal?
What are the tailgating rules for the game we are attending?
These basic questions will help you to prepare and show up with the right things. Over-buying and under-buying will cost you cash, so plan accordingly. Having a list and a plan before you shop will keep you focused and money smart.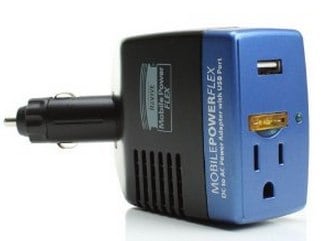 Purchase a car adapter outlet to heat up your crockpot.
Go for Simplicity
When you are dealing with football fans, simple is usually plenty good enough. There is no need to break out the truffles and calamari here. Grab some hot dogs and hamburgers and most will be thrilled. If you want to stay healthy, consider turkey burgers.
If you must go with steak or other higher priced options, make sure you stick to a head count and buy the right amount. Simple is always better in this atmosphere. You never know how many folks might show up and extra hamburgers and dogs are fairly cheap.
Use Good Quality Charcoal
If you are going to do the charcoal thing, spend the extra money for the good stuff. Nothing is worse than buying cheap charcoal and discovering that it won't cook your dogs and burgers. If you are at a tailgate and have cheap charcoal, you are begging for problems. You can't exactly head to the store, right?
Find the weekly sales on our Sale Shopping page.
Utilize Those Coupons
If you plan ahead as mentioned above, it is very easy to pull up some awesome coupons for the party. You can save on virtually everything that you need if you pay attention and do a little searching. Hey, we do all the work for you! Coupons are free money and they are available to everyone. Join in the fun for your tailgating party!

See how Big Box stores can help you save more.
Visit Big Box Bulk Stores for Primary Items
Big box retailers are not always good for purchasing frugally, but they are wonderful for basic items you need for a party. When you combine coupons with the bulk prices at a big box, you are going to save money right out of the gate. Great items to buy here include chips, dips, drinks, hot dogs, hamburgers and other party staples. In some cases, you can stock up on everything you need.
Tailgating is a ton of fun and it becomes even better when you don't spend your week's paycheck to do it. Take the time to trim some costs and you will be able to do it more often. Happy football season everyone!