Free Ikea Family Program: Discounts and Savings!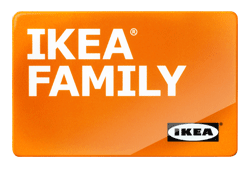 Shopping at Ikea just got even better! Join Ikea Family for savings, discounts and Freebies.   Provide just minimal information when you join this Free program and then start enjoying all the benefits.
Save on many items throughout the store including Ikea Family products
Get a chance to win $100 Ikea gift card every time you scan your card at checkout
Free coffee or tea in the restaurant every time you visit
30 extra minutes for the kiddos in Smaland ~ Woo Hoo! (capacity permitting)
Online tools like shopping lists and other special features
Sign up for Ikea Family online or look for a kiosk at your Ikea store.  The program works (like many others out there) with a key tag that you scan at checkout.  This is a new program and may or may not be available in all stores.  If it's not at your store yet, it should be coming soon!
Oh and here's a good time to mention my favorite Free phone app.  It's called Keyring.  It stores all of your store loyalty cards so that all you have to do is show your phone at checkout instead of carrying a card for every store you shop.