Start a Homemade Cake Decorating Business

Can you think of how much you have spent over your children's lifetimes on birthday cakes? Yeah, me either. While I have made a homemade cake or two in my day, I much prefer to leave the cake baking to the experts! But, by experts, that doesn't mean a high-priced store!
I have several friends who have taken their passion for baking and turned it into a successful business. The picture below is from my friend Courtney's company, Sweet Top Cakery. If you visit her Facebook page you will see so many amazing works of art. My favorite is the fire truck with real lights!

If you are a force to be reckoned with in the baking department, this can become a profitable business for you too! Here are a few suggestions to get started:
Learn How with a Few Lessons
If you don't consider yourself a pro yet, but are passionate about baking, consider taking a class. Most cities have classes where you can go to learn how to decorate like a professional baker, or you can watch videos online and practice on your own. If taking a class isn't convenient, there are several cake decorating books on Amazon – start there!
If you get good enough at baking and decorating, you may even get calls from other parents for orders when they have a party. Many cake creators started out by impressing their friends at birthday parties for their kids.
Use a Few Pieces of Professional Equipment
Find cake pans in the shape of whatever you want, like lady bugs, cars, and castles, etc. Visit sites like Wilton.com to find videos and articles that share tips on how to make and ice your specialty cakes to look just like a real professional baker created it.
Most specialty pans cost less than $15 and come with complete instructions for how to decorate them (here are a few on Amazon). You can use the weekly craft store coupons to save on these as well. You may need to spend an additional $20 for decorating supplies and icing kits. But, once you have them, they will last for several cakes which makes it even more affordable. Specialty baking pans can also be found in your local thrift stores for a lot less. Do the research and you'll find what you need.
Ask Other Creative People
You can always ask your friends and family if they ever decorated cakes. Or, search Pinterest for an hour. You will surely find recipes and instructions from others who have discovered ways to make cakes look professional.
Also, there are always fun, inventive ways to create cakes without a designed cake form. As a simple example, a ladybug can be made with a round cake pan for the body and a cupcake for the head. Then add red food coloring and mini chocolate chips and you will have what you need to create a ladybug.
Determine Pricing
I pay good money at grocery stores for cakes, and I would much rather support a small business owner. So, you could start with what the grocery stores are charging. The competitor pricing is readily available to you when you walk up to the bakery counter.
Determine how much your time is worth and differentiate yourself amongst other private bakeries. Maybe consider at-home delivery. I just thought of that one and seriously think it would be awesome if someone would offer it! Sometimes that's the biggest challenge with picking up a substantial size cake – how to get it back home! That could definitely set you apart, especially with people wanting to find ways to save time too!
If you have a unique way that you earn money from home, please share it with us.
I would love to include your experience with our readers!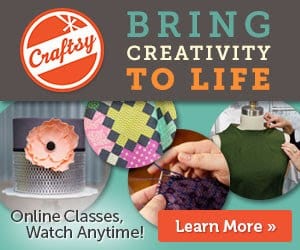 Attend online classes with Craftsy and learn how to
start your own cake business, create designer cookies and more!
Disclaimer: This post contains a link to an affiliate and support this site. See my Disclaimer Policy for additional information.