Saving on Big Ticket Purchases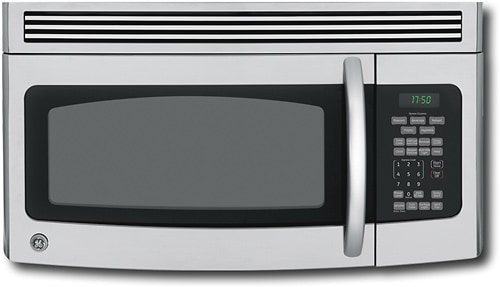 Our microwave-hood broke last year. It was only 3 years old, and one of the fancier (more expensive) models made by Kenmore. I refused to purchase a new microwave because we were and continue to be so focused on our financial goals.
When the microwave broke, we were able to borrow a microwave. It was a counter microwave so it took up a lot of space. Since we didn't remove our broken microwave, we were using it as storage of sorts :)
We put money aside to purchase a new microwave, but it wasn't an urgent need. I wanted to, of course, get it on sale or a great bargain. This past weekend, I was perusing the Sunday ads and saw a sale at Best Buy. All appliances were 15% off. To me, that was a bargain considering I hadn't really seen normal prices drop much lower than that (in our price range).
I went to work and researched the various models online. Best Buy had some great reviews on a certain model, so I chose that as the model we would purchase. Before I made the purchase online, I did other market research to see if that microwave was any lower anywhere else since Best Buy has the price match policy.
No other stores came remotely close to the Best Buy everyday price. I'm not even talking about the sale price!
I then remembered that Sears and Lowe's have the price match and then some policies. Essentially, you take in the advertised price and they will match that PLUS give you 10% of the purchase price too. So, I thought I would check to see if they even had any in stock.
I recently found out about Milo.com. Milo is a site that will do price comparisons for you on current inventory in-stores. I decided to see if Milo could help me find a microwave to purchase that day!
Miloe came back with the price comparison showing that both Sears and Lowe's came in about $200 MORE than the microwave price at Best Buy. And, not only were the other stores more expensive, they were also NOT in-stock. Milo did its *magic* and told me that the microwave was in-stock at a local Best Buy. We decided we would make the purchase there. And, I really, really like Best Buy!!
BUT, before we went there to pick it up, here's what I did :)
Ebates offers 1% cash back on Best Buy purchases. I shopped Best Buy through the link on Ebates and got 1% cash back. No, it's not a lot but it just paid for my Venti Nonfat No Whip Stirred Mocha :) FYI, sometimes Ebates will not approve cash back for in-store pickup, but I would have been out very little so it wasn't a biggie.
No matter WHAT the purchase is always consider purchasing online if you can! If shipping is FREE (and it usually is for larger purchases) and it's not an urgent need, shopping online for big ticket purchases can help you save even more!! Especially if the cash back % is a LOT! In this case, the special was FREE shipping for purchases online over $25!

My point in sharing all of this is a few things:
Cash is great! We actually paid with our Upromise Credit Card that gives us cash back on purchases. So, we made even more money making the purchase. We will pay that off with the cash we had saved for this purchase.
Cash back sites, like Ebates totally rock! Sometimes getting discounts on big ticket purchases aren't possible. Luckily months of our waiting we were able to get a sale. But, if that's not possible getting cash back from these rebate shopping sites is a discount in itself!
Researching pays off. Had we really wanted to order the microwave special from Lowe's or Sears who offers the price matching then some policies, we could have saved an additional 10%. Knowing products were in the store and we made one trip, thanks to Milo.com, saved us on gas….oh, and listening to our 3 boys fight with one another!
A broken microwave can double as storage. But, I am so glad to have my counter space back now! I really hope I don't have to post that that this microwave died in 3 years like our Kenmore did. I will be very upset :(
How do you save on big ticket purchases?