Walt Disney World's ESPN Wide World of Sports
Are you a sports mom? Well, if you follow me on Instagram, you know I am! I'm always posting pics of the boys at their sporting activities.
We play basketball year round and I'm sort of looking forward to getting a break next month! But, then football will take over and start to consume our lives every weekend until November, just when basketball takes back over. It's a never end cycle of sports! I to watch my kids play!
Needless to say when I was invited to the take part in the Disney Sports Festival this year at Walt Disney World's ESPN World Wide of Sports complex, I was truly excited. This is the first summer for the festival, and I learned so much being there for 2 days.
Why Disney Sports?
Our family has been to Disney several times. Whether it's cruising or staying at Cinderella's castle, we do love Mickey Mouse! We have never visited the ESPN World Wide of Sports complex and our "behind the scenes" tour made me wish we had visited on our own in the past!
Our first day in the complex, we were welcomed by Karissa and Kevin, who announce the game-day competitions. It was a fun surprise to hear them sound all official and announce us as the "starting lineup." They made us feel like stars, which is their intent. While WWOS is not a park, they aim to deliver the "WOW" experience to all guests.
WWOS has professional announcer to make team announcements. So, every player feels like they have made the "big time." Can you imagine how your child will feel after the opening ceremonies and procession where their name is announced? Yeah, that's the magic Disney brings to their sports complex.
ESPN Wide World of Sports Complex
The complex is AMAZING! Over 255 acres filled with sports. Talk about being home! Each field or court is up to professional standards.
In fact, the Atlanta Braves have their season training at the WWOS complex. If it's good enough for the pros to play on, it's good enough for any amateur or aspiring pro.
This is the first year for the Disney Sports Festival and WWOS has received positive feedback. Visitors can stop by the Festival Center Tent to attend informational sessions as well as find a place to get away from the heat. There were mist tents setup, jumbo slides, corn hole and other fun games. There was even a portable charging station available so you could recharge if you're running low.
Side note, our boys wanted to know if I went down the slide. As I told them no, they replied with "Man mom, we would have a hundred times!"
Events and Competition
Being a basketball mom, I was particularly impressed with the basketball courts. There were AAU national championship basketball tournaments going on while we visited. Since two of our boys play AAU basketball, I had a personal interest in the games and level of competition – it's serious business. In fact, there is a special seating section for NCAA coaches to watch games.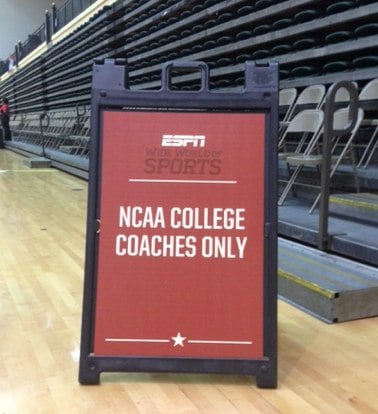 This college recruitment isn't just for basketball but for many sports. In fact, they have hold many showcase events for D1, D2 and D3 coaches where scholarships are awarded on site.
I'll be honest, our boys' play on teams that will not qualify for any AAU national game. In order to play at WWOS, they have to qualify for many tournaments. However, I was pleasantly surprised to learn that many tournaments are open to all without any qualifying placement or invitation.
The WWOS complex also offers many different high school sprint training clinics. In fact, there was a clinic going on at the track field during our visit. Can you imagine going to Disney for a team camp? Sign me up!
The runDisney events are wildly popular and the expo setup is at the WWOS. So, many runners who attended the event were quite familiar with some of the complex. I have heard from many friends who are runners that they love the runDisney runs! Maybe one day I'll make it there :)
You can find a listing of all of the WWOS events HERE.
Are you a Team Mom?
I learned so much about how the WWOS complex can help make your life easier! YES, easier! Even though I've never been a team mom, I have been at day-long tournaments and had hungry boys to feed. I was enlightened to learn that you can order breakfast and lunches for your team and have them delivered directly to your court or field! No more rushing around during a short break to pickup food for your athletes.
Need to relax a bit? The Office Max Business Center has complimentary charging stations, printing and hand fans to cool off on the fields. I also loved that you could make your own personalized signs for your athletes as well. Again, who wants to pack this type of stuff, or go to the local store to get the supplies when you're preparing for games? You have everything you need in the business center.
There is a Welcome Center on site that can help you arrange schedules to visit the parks, attractions or dining. This is a great benefit since you may not know when you're officially done for the day. If you know you have a half day to spend in a park, there are even sample itineraries to help guide you and know what you can enjoy during the short period of time.
If you are participating in a WWOS event, you can purchase discount passes after 2 pm. These passes are ONLY sold at the WWOS complex in the Welcome Center or labeled carts around the complex.
Need Video or Photos?
Are you the team Mom and the team photographer? Well, Disney has this covered as well. This is a feature that is pretty typical for tournaments and such so I wasn't surprised to see this being offered by Disney. You can make reservations to have a photographer for your child, or your entire team.
You may also purchase copyrights to use the photos in whatever way you wish. Hey, even moms can make the cover of ESPN magazine :)
We also visited the ESPN WWOS production center. They have 56 high-definition cameras going all the time, taping each game. They take the footage and show highlights from that day's events even interviewing players. Can you imagine if your child made the daily highlight? Seriously, more magic!
All of the day's events are shown in-room (channel #25), on YouTube, at ESPNWWOS.com, ESPN3 and the Watch ESPN app. The same videos are also shown on the GINORMO video screens on property. It's pretty cool to see the play by play going as you walk by.
Also, another little known fact, since WWOS is partnered with ESPN, the Bristol, CT production team can come into the production center and take over when they want to cover any professional games or events (and they have). The tools are top notch and professional quality – all for your child to experience. The WWOS production team refers to themselves as "ESPN South" since they produce ESPN quality productions.
Offset Cost with Fundraising
Playing sports isn't cheap. Since a lot of our personal experience is with AAU ball, I can say we've spent $500 for one child to play the season and they only receive a uniform. We still have additional expeneses like shoes, accessories (yes, boys accessorize), admission fees, gas cost to travel and get there. It's expensive, right? Well, many teams have taken to fundraising to help offset the expenses. This is an area that Disney is fully aware of and provides resources to assist.
Fundraising is a great option to consider for tournaments or camps. I love that the ideas aren't the same old cookie dough and gift wrap that we're all likely familiar with. You can even sell raffle tickets for a Disney park stay, and even sell ESPN magazine subscriptions. A lot of this can be done virtually too so you can socialize your fundraising efforts.
Find more WWOS Fundraising Ideas HERE.
Saving at WWOS
During our time, we also met a Disney Moms Panelist who has personal experience with WWOS, Audra. She shared a lot with us that can help make any team mom's trip a pleasant one. She has several great tips:
Plan in advance.
Stay on site.
Stay together.
Plan activities each day.
As we were walking out for the day, I asked Audra to share a tip that she felt could help families save. After all, that is what Savings Lifestyle is all about – save on what you need so you can spend on what you want. In fact, I've written about ways to save on a Disney vacation in the past and they would be applicable for any WWOS trip too!
Audra explained how she did the math for one of their previous tournaments. In the end, she suggested WWOS over the others because you get so much more for your money: discounted tickets when you book as a group, free parking at WWOS and any of the parks (very RARE for many resorts), the experience of the parks when the game is over. Even if you don't win, you win because you get to have fun either way!
"A good story can take you on a fantastic journey." Walt Disney
That is a fantastic way to look at it. The ESPN World Wide of Sports complex is a Disney property. After spending the time there, *that* is the difference. You can participate in other tournaments but do they offer professional facilities and accommodations to make your experience better? Ask that question, do the math and enjoy the magic that Disney offers through this amazing sports complex!
Disclosure: Disney provided airfare and hotel accommodations for this trip. I'm a sports mom first and blogger second. All views are my own. See my Disclaimer Policy for additional information on what the FTC wants me to disclose.