Product Spotlight | Swiffer Wet Jet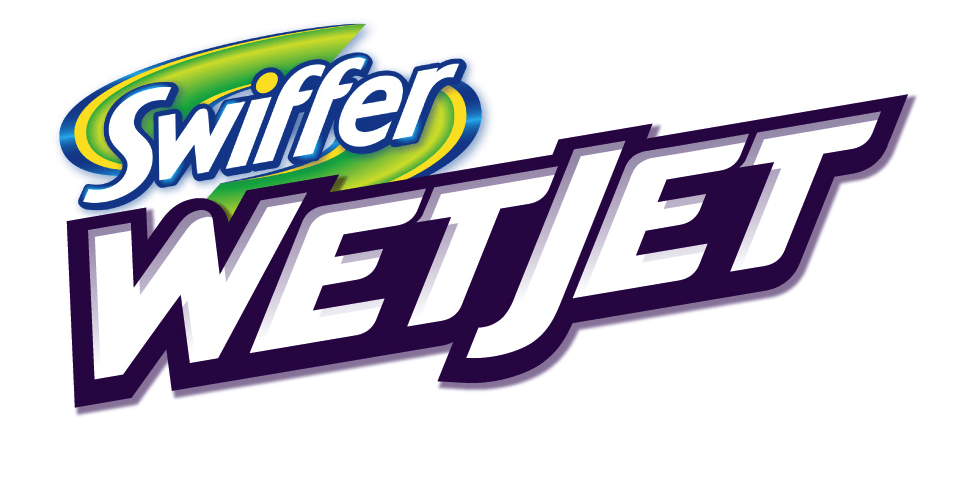 I recently received the Swiffer Wet Jet from My Blog Spark. I was so excited to get this. It's seriously not right to get that excited over a cleaning device! :) But, I have been contemplating the purchase of one so I was a little giddy!!
I want to share with you my personal unbiased review of the newly remodeled Swiffer Wet Jet. Feel free to leave any questions or comments of your own experience!
Cost
The Swiffer Wet Jet All-In-One Starter Kit retails for around $22. The Starter Kit comes with the Power Mop, 2 Disposable Cleaning Pads, 1 Scrubbing Strip and 1 500 mL Multi-Purpose Solution.
Use
You use it like you use any other mop to push around the floor. Only with the Wet Jet, the solution sprays out at the push of a button. So, no putting a mop head into a bucket to saturate with cleaning solution. I always hated that part!
As you are mopping, you can quickly turn the mop to use the scrubbing pad (shown immediately below). Having everything in one package makes it efficient to get the mopping done.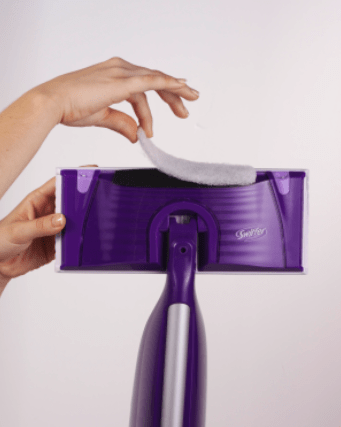 Personal
This got up a LOT of dirt – seriously, a lot! The disposable cleaning pads are supposed to be used twice. However, I had to toss it after one time! Now, we do have a family of 5 and lots of dirt, so maybe yours will last longer. I'm sure square footage plays into that too. I did talk to a few others about the cleaning pad and they had the same issue. If you pick up the Starter Kit be sure to get a box of refills too so you don't have to run out if you're out!
The Wet Jet Scrubbing Pad is AWESOME! My other mop was a swivel head mop that had a reusable microfiber velcro pad. It had no scrubbing power. It would clean up surface dirt, but didn't get into the nooks and crannies as I needed (did I mention we have 3 boys :).
I loved that the Wet Jet has the cleaning pad AND this scrubbing pad to scrub on those tough spots. Having the ability to quickly flip the mop and use the scrubbing pad to get those tough spots makes cleaning more efficient. I still have the original scrubbing pad on after several times mopping. I would always spot clean AFTER I cleaned with my other mop – crazy, I know but I didn't have a better alternative at the time.
I also love that the solution is attached IN the mop. Again, with my previous mop, I would just wet the microfiber pad several times during mopping since it would dry up. Having the nozzle to press and get solution immediately on my floor is so much more efficient!
One container of solution lasted us through four mopping sessions (I know it's not a *session* but what else do you call it??). I may have used more solution than I needed because I was excited about having it at my disposal :) They have a separate solution for wood floors too.
The Power Mop itself is easy to clean with. The only issue I had is the height of the mop. I'm only 5'6 but I felt like I had to bend over a lot to clean. So, if someone is taller than me, they would definitely be hunching over during the cleaning process.
Cheap
There are typically coupons available in the P&G Sunday Inserts for discounts on the Starter Kit or Refill Items (solution, cleaning pads, scrubbing strip).
There is currently a money-back guarantee, a Swiffer Refills Reward/Rebate when you purchase products from the Swiffer Line, and even printable coupons to save as well!
Of course, you could accumulate ECB's and purchase one for very little or nothing thanks to CVS shopping!
Product Recommendations

I do have a few recommendations with regards to sustainability.
I'm not a Green Fanatic, but I would think there has to be a more green and economical way to package the solution refill. As it is now, you need to purchase a new bottle of solution when your old bottle is gone. I wonder if reusing the older bottle has been considered? It would save the landfills AND some of the savings in a more economical packaging can be passed on to the consumer. I have a few thoughts, but won't give those all away here ;)
I would also love to see the Wet Jet market their own line of reusable cleaning pads. The current disposable cleaning pads have a suggested usage of two cleanings, and they are tossed. I used an old microfiber velcro pad during a cleaning session and it worked fine. Maybe they could come out with a line of reusable cleaning pads that can be tossed in the washer after each use? There are probably other ideas for this as well.
With all of that being said, I love the Wet Jet and will be using this mop exclusively. Now I understand the commercial where the old mop is so sad singing that song "Baby come back…" because the lady loves her new Wet Jet. YES, it's totally corny, but it's true for me!
My Blog Spark sent me a Swiffer Wet Jet. The views and thoughts are all ME! My disclosure can explain anything you could ever want to know about anything that may need disclosing :)