Moving without Central Air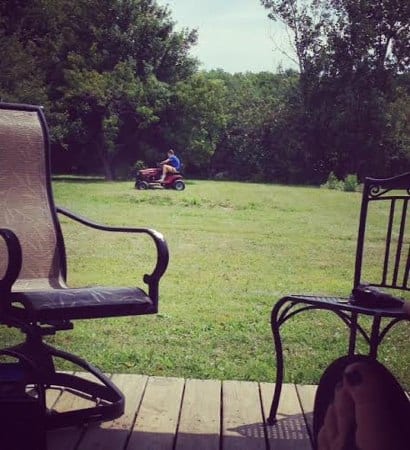 If you follow me on Instagram, you know that our family has moved. We purchased a home back in our hometown and now reside in the country. Which means there are spiders, bugs, bats and mice all roaming around (and unfortunately, they are also inside – EEK!!).
I am sharing more about the house and our upcoming renovation plans over at my personal blog, ianera.com. Read along there if you want to learn more about why we moved and what plans we have for renovating our new place. There are going to be some great posts to write and share here on Savings Lifestyle too about the savings side of things, with this first one being about staying cool without spending thousands!
Our new home doesn't have central air. It's 100 years old and needs lots of updating. Unfortunately, central air wasn't in the budget this year.  Everyone is pitching in as you can see above with T and Andon working on starting renovation and just general cleaning. It's hot. Very hot.
You should know something about me: I could live in 80 degree temps all year round. My husband and boys, not so much! There are several large trees and a wonderful breeze so it hasn't been too hot. But, there have been a few days so far that have been unpleasant for even me. We needed an air conditioner and we needed one fast so my poor family didn't melt. I wish I was exaggerating!
Lucky for them, I joined the Haier Ambassadors Program and they have lots of great products including a fantastic line of air conditioners. I love how things work out that way. :) Oh, and if you are interested in learning more about Haier products & exclusive offers & opportunities, you can join the program too!
The truth is, even in our other "newer" home we could have used an AC unit. The ductwork upstairs never could keep it cool enough for my family's satisfaction. The Haier air conditioner units do the job well! So much so that my family has felt relief in our new home since it's been installed.
I want to share more with you about the specific Haier air conditioner model we chose, and the reason for doing so. Watch for my review post in the next few days. Until then, here's a pic of our oldest son helping my husband install the Haier unit. Gotta love getting the kids involved!
#spon Disclaimer: I'm required to disclose a relationship between our site and Haier. This could include Haier providing us w/content, product, access or other forms of payment.