Make Money from Home Free eBook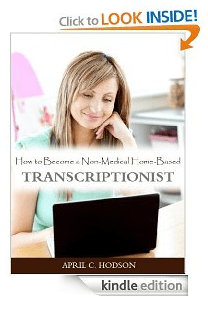 If you've wanted to learn how to make money from home, pick up this free eBook now on Amazon.com. In Make Money from Home: How to Become a Non-Medical Home-Based Transcriptionist, you will learn the different kinds of transcription, skills needed to be successful, step-by-step instructions on how and where to get hired, payment details, tax tips, and more!
Thanks, Freebies 4 Mom!
Remember, with these downloads, you don't need a Kindle or NOOK to read them. You can read on any eReading device or even a PDF reader! You can also download free software to read Kindle books or NOOK books on your computer. And, grab the download now when it's free since the prices change without notice.
Search the Free Stuff page to see all a comprehensive list of active Freebies!
Disclaimer: This post contains a link to an affiliate. See my Disclaimer Policy for additional information.