How to Get Longer Eyelashes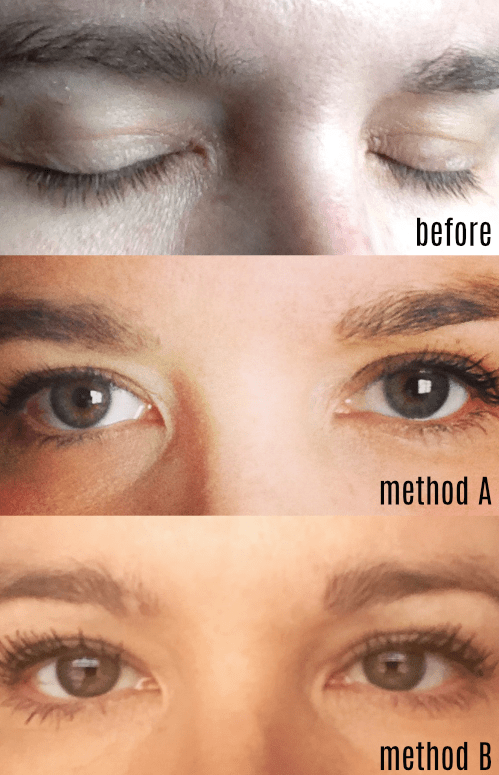 If you're looking for how to make your eyelashes longer, you have come to the right place! You want products that actually work and don't cost an arm and leg? I have personal experience with both, and this post shares other methods that didn't work so well for me.
Grow Long Lashes Naturally
Let's first talk about what I have done that wasn't "all-natural" but worked for a large price tag. Yes, it's Latisse and it works. But, there are issues with it too.
Latisse is only available from a doctor or high-end medspa. Latisse is also around $90-$100 depending on where you purchase. Latisse is a prescription drug therefore offers some side effects.
I was not affected by side effects during my first month-long application with Latisse. I stopped applying as directed and took a small break. When I got a new bottle and started applying again, the side effects hit me. They were nothing terrible but I did have bloodshot eyes and redness on the waterline of my upper lid.
I eventually stopped using Latisse because the redness wouldn't go away. It wasn't terrible but it was noticeable if I didn't wear eye makeup. I just didn't want to mess with it anymore. It also wasn't super convenient to get each new box since it was a drive out of my way to purchase it.
By the way, the pictured labeled "Method A" is my after using Latisse. It does make your lashes grow! But, keep reading since I'm sharing the best option that I currently use and is much cheaper (and healthier).

Castor Oil for Eyelashes
I have also made my own castor oil eyelash serum for eyelashes and didn't notice any changes whatsoever! I even bought the empty mascara tubes so it was super easy to apply. I also think having the oil near my eye caused me to have blurry eyes.
The same thing happens with eye creams or serums that contain too much oil (like Argan or coconut oil). It isn't anything dangerous but it causes issues. It was never applied in my eyes so I'm not sure why that happened.
Needless to say, the castor oil home remedy didn't work for me. I don't know anyone who has had this method work for them either.
Mascara and Serums for Long Lashes
Like so many people, over the years I have purchased and used many expensive mascara brands and other over-the-counter serums. My favorite high-end mascara brands are Diorshow and Tarte Lights Camera Lashes.
Both of these brands are fantastic but have their own issues. Diorshow dries out super fast. For $25, I expect to be able to fully use a tube without it drying out.
The Tarte formula is fantastic but I have broken two wands as I was pulling out to apply. I'm not some super strong She-woman but if you spend $15-$20 for a bottle of mascara, I expect the quality of the applicator to be more durable.
I have also tried the Younique 3D lashes. I didn't like the fibers you apply. It didn't look natural *on me* and, as crazy as this sounds, I didn't want to mess with the steps required (primer, mascara, fibers). I'm like Sweet Brown with my makeup application in general: "Ain't nobody got time for that!"
Lash Extensions
As much as I have wanted to get lash extensions, I just don't have time for all that maintenance either. Plus, it's expensive, around $150 for lash extensions by me. Then you need appointments for the fill-ins which are more time and more money. I do have friends who have lash extensions and they look AMAZING! But, they have also shared that quitting isn't as easy as one would think.
Oh, and I'm not gonna talk about false lashes since I've never used them. I've watched enough YouTubers who use them and I LOVE the look! But, I'm way intimidated by the application. Plus, I work from home so it's not like I need to have these magnificent false lashes on for no one to see.
How to Make Eyelashes Longer
OK, ok, you have made it this far so now you wanna know what has worked, right? The method and products that produced my long lashes in the "Method B" after photo are just a handful of products:
Yeap, that's it! You can get all three items, depending on the mascara brand, for around $40. You only need to re-purchase the collagen and mascara as needed. If I purchase this collagen brand, the container lasts me a good 6 weeks. So, this option is way cheaper and the collagen provides other health benefits which you can't really put a price tag on!
Also, make sure you get this *exact* eyelash curler. Tweezerman sells one that looks similar in Ulta and other beauty stores. However, I have only been able to find the Pro Curl model on Amazon (get it here).
Best Drugstore Mascaras Brands
Since we are talking methods, I have to share my favorite drugstore brands. I'm sure this will change as new brands come out with new stuff, but right now my favorite drugstore mascara brands that I'm using regularly are L'oreal Voluminous (blackest black) andCover Girl Clump Crusher (very black).
The Cover Girl Clump Crusher doesn't flake at all on me and is great for all-day wear! The water resistant formula is also fantastic. It will wash off your eyes easily with soap and water. I like the wand on this mascara – it's skinnier so it's easy to get to those tiny inner corner lashes.
I'll admit that the first few times I applied the L'oreal Voluminous mascara I didn't like it. I have small round eyes; and the wand and bristles are thick. So, as you can imagine, I got mascara all over my lid during the application.
However, I'm glad I came back to it because I am loving the length and volume I get with this mascara. The only downside is that it does flake after a longer day of wear so I never apply to my lower lash line. I rarely apply mascara to my lower lashes anyway but if it gets on them when I apply, I almost always flake near the evening time.
I'm wearing the L'oreal Voluminous in the "Method B" picture. I wasn't even intending to take an after photo the day I took this, but I had another person ask me again that morning what I was doing! My point, this isn't even the best application with the mascara – it's only one coat.
How to Grow Eyelashes Fast
Looking for how to grow your eyelashes overnight? Um, that's not possible! But, collagen will actually make your eyelashes grow fast! By fast, I mean 3-4 weeks.
In my opinion, that is fast for a physical change to the appearance of lashes that actually works. I have taken collagen on and off for years for the many health benefits from using this stuff – seriously it's just good for you whether you want longer eyelashes or not! But, I NEVER noticed this change. Perhaps it was becuase I wasn't being consistent with consuming it everyday. That does make a difference.
For one month I consistently added collagen to my morning coffee strictly for the other many benefits that collagen provides. I was not even thinking about eyelash growth! After a month of strict consumption, I caught a glimpse of my lashes and realize they were LONG! The length, coupled with my favorite eyelash curler, really made my lashes pop.
I take 1 TBS every morning in my coffee. The suggested dose is 2 TBS, but I have found that 1 TBS gives me amazing results. I don't think doubling the dose would make my lashes even more voluptuous. I'm not greedy :)
I have also purchased these collagen supplement capsules to test. Sometimes it's hard for me to have a hot beverage that will dissolve the collagen so a capsule is more convenient. Also, I have my husband taking the capsules since he doesn't drink coffee or hot beverages. I'm following his hair growth closely too since collage does cause your hair to grow super fast. Even my hair dresser commented on my hair growth during all of this!
The $10 drugstore mascara can really look amazing when combined with the collagen! The eyelash curler really makes the lashes curl and stand out to show off all the new length and growth! Sure, you can keep buying $30 mascara but why would you if you know you can have permanent long lashes even without wearing mascara every single day?! I'll save my money thankyouverymuch!
I truly believe these products – this method – is the best way to get longer eyelashes! Try it yourself and please share pics of your before and after! I can't stop telling all my friends about this and would love to hear from you!
Disclosure: This post contains a link to an affiliate and support this site. See my Disclaimer Policy for additional information.