Homemade Spaghetti Sauce Recipe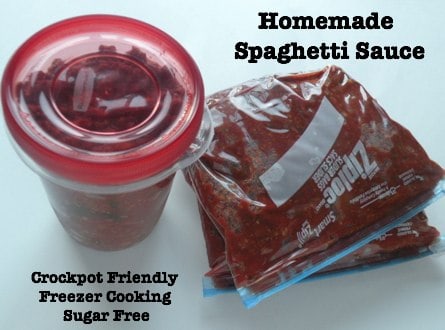 One of my goals this year is to make more homemade items again. Several years ago, I was doing this quite a bit. Before I learned how to take pictures and upload them to my blog to show everyone. Since our boys love spaghetti, the one item I knew I could easily make myself is spaghetti sauce.
But, I didn't just set out to find a recipe online. One of the other things I'm trying to do is to eliminate sugar from my diet (and in turn, their diets). And, just about every recipe I found online has some form of sugar included (whether it's the processed stuff, or with honey). So, I literally looked at the back of one of my favorite spaghetti sauce jars that doesn't include sugar and went from there with what I had in my pantry (which is the Costco Kirkland brand in case you're wondering).
You should know this about me: I'm not even close to Martha or Betty. I have made so many recipes that were complete flops. I truly keep it simple in the kitchen. Despite my flops, I continue to try to experiment with recipes in hopes that they turn out.
I'm happy to say that this turned out fabulous! The only thing I will do next time is add more garlic (you can never have enough garlic) and use less meat. I'll stick with this recipe as written below when I make this again (and I'll have to at least once a month).
We purchased 1/2 cow last year (that is pasture-fed and organic). I forgot the ground beef packages were 1.5 pounds each since that's typically what our family of 5 uses in a meal that calls for ground beef. I had 3 pounds of meat in our spaghetti. Next time, I'll be using 2 pounds or maybe even less. 
Did I mention this is a crockpot friendly recipe? That's a BIG bonus, right?!
This made enough for 4 servings for our family. There is only three shown in the picture because, well, as any good cook woud do, I ate some of it to make sure it was picture-worthy. It was. And it's a new addition to our homemade pantry staples.
Homemade Spaghetti Sauce Recipe
Buy It
Crushed Tomatoes – (2) 28-ounce cans
Tomato Paste – (1) 6-ounce can
Onion – (1) Medium size
Garlic – (5) Cloves (or more if you like garlic, like me)
Dry Basil – 2 Tablespoons
Dry Oregano – 3 Tablespoons
Salt & Pepper – 1 Tablespoon (each)
Red Pepper Flakes – 2 Tablespoons
Make It
Dice the onion and place in slow cooker.
Mince the garlic and throw that in too.
Add the tomatoes and tomato paste.
Give it a swirl.
Add all of your dry ingredients EXCEPT the salt, pepper and red pepper flakes.
Let it strew for about 4-6 hours on low.
While this is cooking, brown your ground beef and set to the side.
In the last hour of crockin', add the red pepper flakes, salt and pepper.
Don't try to taste it to see if it's spicy since it'll be hot and may numb your tastebuds thus making you think it's not spicy and you may add more. Trust me on this one.
When it's finished, add the ground beef.
Let it cool completely. I just set it in the crockpot in the fridge covered overnight.
Place in freezer containers.
Cost Breakdown
We eat spaghetti (or a version of spaghetti) at least once a week in our home. I got the majority of the ingredients at either Costco (in bulk, so I already had on hand) or Aldi where things are just cheaper in general.
Purchasing a package of three jars at Costco is around $8 (32-ounces each). I spent around $3 on the ingredients for 4 servings. So, not only am I saving $5 on the ingredients alone, I'm also getting an additional serving from my homemade version.
Next time I make this, I'll purchase the large can of crushed tomatos at Costco. I thought I had some to make this recipe but couldn't find them. I mean, where can a huge can of tomatoes be hiding?
Feedback
Let me know if you make this recipe and if you have any homemade recipes you make versus purchasing to save, I'd love to hear from you! Please email me at [email protected] so I can share the recipe!
by Savings Lifestyle: Andrea on January 07, 2013