Homemade Rice-a-Roni Recipe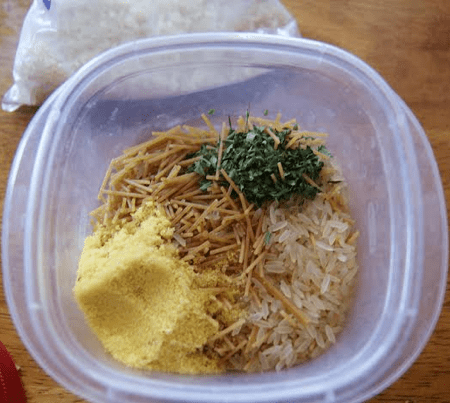 Rice-a-Roni is a great side that is simple and super inexpensive to make. Take 15 minutes to make up a big batch and store in your pantry for up to 1 year, making it a quick go to grab for a side dish.
This homemade version leaves out a few things that aren't necessary in the boxed store version – artificial flavors, colors, extra sodium, etc. When you add the wet ingredients you can control exactly how much sodium and fat that goes into it. Use low sodium broth, and real butter instead of margarine to make it a healthier choice.
Copycat Rice-a-Roni Ingredients
1 cup, Spaghetti Noodles (broken into ½" pieces)
1 cup, Uncooked Long Grain Rice
1 tsp, Parsley Flakes
½ tsp, Pepper
2 Tbsp, Chicken or Beef Bouillon Granules
Mix all ingredients together and store in a container.
Copycat Rice-a-Roni Directions
In a saucepan on medium heat add 2 Tbsp Butter and Rice-a-Roni mixture.
Saute until pasta and rice begin to brown, stirring constantly.
Add 2 cups of water and simmer until liquid is completely absorbed.
There is a noticeable price difference too! You will pay around $1.25 for a box at the grocery. The small amount of ingredients you will use from your pantry make this homemade version about $0.50. Healthier and less expensive makes this family favorite a no brainer when you want something besides potatoes.
Don't forget to Pin on Pinterest to save this recipe!
by Savings Lifestyle: Andrea on June 17, 2014