Brownies are my favorite dessert snack ever! I love chocolatey, fudgy desserts and this brownie mix makes the best. Not only are they actually easy to make, but once you have a mix made you won't need to purchase a box at the store ever again!
I prefer to make my own versus buying store-bought for this one. You can really control the quality of your ingredients that way. However, when you are craving brownies or told at the last minute that a snack is needed, it's easy to mix together a batch of brownies if you have this mix prepared.
Homemade Brownies Mix
This large batch of creates enough brownie mix for 7 square pans of brownies. Store the mix in a nice glass container like this glass jar to keep it fresh. I own these glass jars in several sizes and they are perfect for storing dry goods.
This large jar and a nice pan would make a great gift too. Just make a pretty label with cooking directions and add a bow. Simple, thoughtful, and inexpensive.
Easy Recipe for Homemade Brownies
This brownie mix recipe really couldn't be more simple to prepare. Just mix all of the ingredients below well (whisking or sifting if needed to get them thoroughly mixed). Then store in a large container.
2 cups unsweetened cocoa powder
6 cups all-purpose flour
8 cups sugar
1 Tbsp. salt
1 ½ Tbsp. baking powder
Glass Jar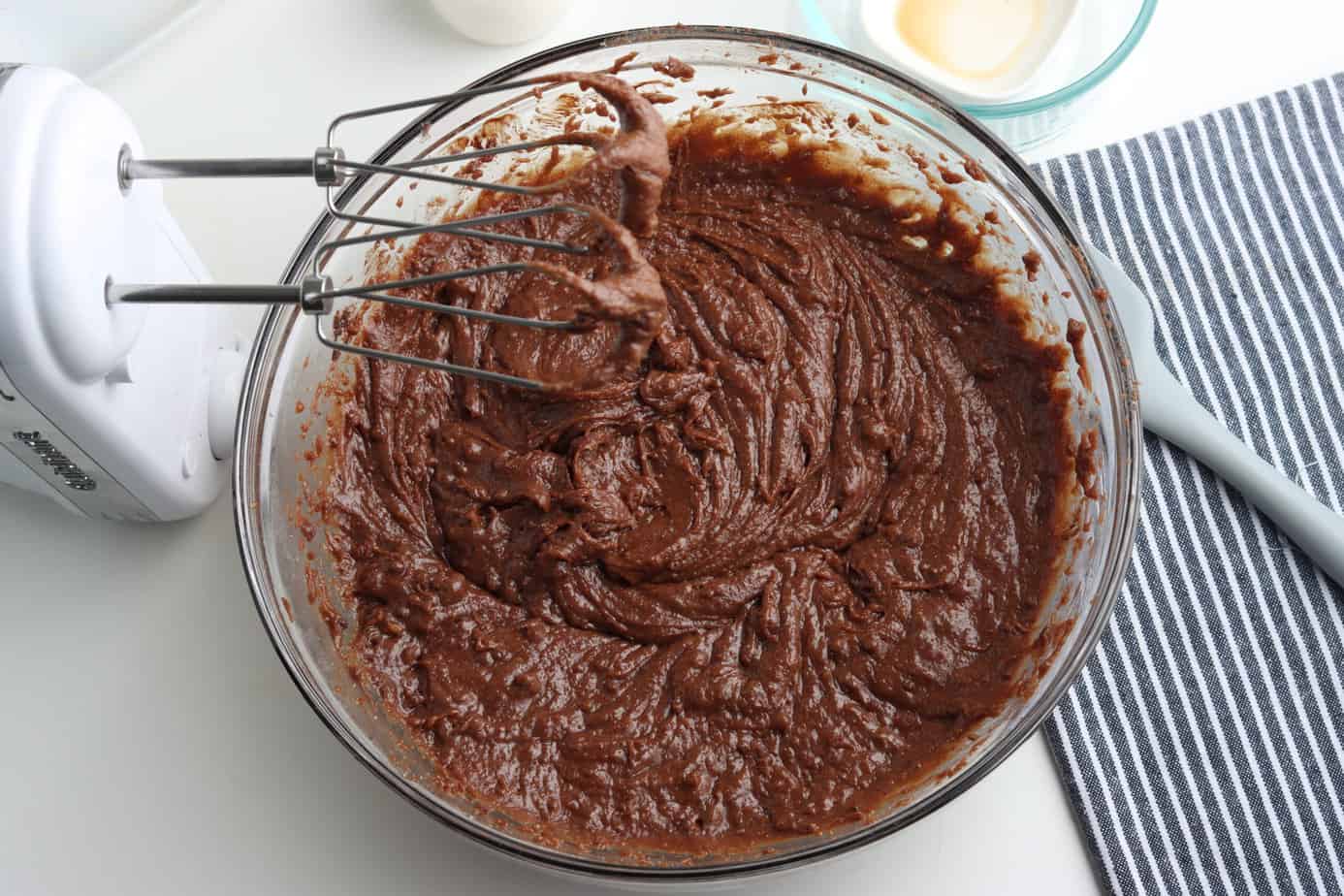 Homemade Brownies
When you're ready to use the brownie mix, these are the ingredients you will need to make the brownies:
2 1/4 cups, Brownie Mix
2 Eggs
3 Tbsp, Water
2 tsp, Vanilla Extract
8×8 Square Pan or Cupcake Pan
How to Make Brownies Easily
Preheat oven to 325. Grease an 8×8 square pan.
In a large bowl, beat all ingredients together until smooth.
Pour batter into prepared baking dish and spread evenly.
Bake for 20-30 minutes or until a toothpick inserted in the center comes out clean.
Baking Brownies in Muffin Tin
I'll sometimes use a cupcake pan instead of a square or rectangle pan. Since a cupcake pan makes individual brownie servings, there are lots of the chewy edges which I love!
To make brownies in a muffin tin, follow the same steps and bake time. Just keep an eye on them as they bake since your oven may bake these faster.
Best Homemade Brownies
There are a few tips will help ensure that your brownies turn out perfectly every time:
Use high-quality ingredients: Use good quality chocolate and cocoa powder for a rich, chocolatey flavor.
Measure accurately: Use a kitchen scale for measuring ingredients, especially for dry ingredients, this will help keep the proportions correct.
Don't overmix the batter: Overmixing can cause the brownies to be tough, so mix just until the ingredients are combined.
Use the right baking pan: Use a pan that is the right size for the recipe, and line it with parchment paper or grease it well to prevent sticking.
Choose the right oven temperature: Brownies should be baked at a moderate temperature, usually around 350 degrees F (175 degrees C).
Check for doneness: Insert a toothpick or a cake tester into the center of the brownies, if it comes out clean or with a few crumbs clinging to it, the brownies are done.
Let them cool: Allow the brownies to cool completely before cutting them, this will make them easier to cut and will prevent them from falling apart.
Experiment with different variations: You can add nuts, chocolate chips, or other mix-ins to customize your brownies to your taste.
Fudgy vs Cakey Brownies
This recipe makes a cakey brownie. For a more fudge style brownie use 3 eggs, and ½ cup oil.
Other Types of Brownies
To take this simple brownie mix up a notch-after pouring brownie mix in the pan add; chocolate or white chocolate chips, a few swirls of peanut butter, cream cheese, caramel ice cream topping.
There are lots of different types of brownies, including traditional chocolate brownies, blondies (which are similar to brownies but made with brown sugar instead of cocoa powder), and variations such as peanut butter brownies, mint brownies, and cream cheese brownies. Other popular types of brownies include:
Cheesecake brownies: These are made with a layer of cheesecake on top of a traditional brownie.
Raspberry brownies: These are made with a layer of raspberry preserves or fresh raspberries on top of a traditional brownie.
Black bean brownies: These are made with black beans instead of flour, making them gluten-free and high in protein.
Brownies with added nuts, such as pecans or walnuts.
Brownies with added sprinkles, chocolate chips, or other mix-ins.
Frosted brownies, which are topped with frosting or glaze.
DIY Homemade Brownies Cost
The cost of making brownies from scratch varies depending on the quality of ingredients and the recipe you use. However, in general, making brownies from scratch can be more cost-effective than buying pre-made brownies from a box.
The cost of ingredients for homemade brownies is relatively inexpensive, with items like flour, sugar, cocoa powder, and eggs being relatively cheap. These ingredients can be purchased in bulk, which can further reduce the cost.
On the other hand, pre-made brownie mixes can be more expensive, especially if you are looking for a high-quality or premium brand like Ghirardelli which is my go-to if I'm out of homemade brownie mix. Many pre-made mixes contain preservatives and artificial ingredients that may not be as healthy as homemade versions.
Overall, making brownies from scratch can be a cost-effective way to enjoy your favorite treat, especially if you are on a budget, but it might take more time than buying a pre-made box.
Doing the homemade versus buy comparison for this homemade brownie mix, it comes out to less than $1 per pan. Compare that to a pre-made brownie mix that usually runs around $2. You can control the ingredients and always have the mix on-hand when you need it so that's worth it to me!
Easy Recipes Family Dinner
If you want to see how meal plan and prep weekly can save you lots in your budget, check more meal plan ideas with easy recipes. Our family loves the restaurant copycat recipes too!
Copycat Olive Garden Chicken Alfredo
Homemade Bread Machine Bread Recipe
Sloppy Joe Seasoning Mix and Sauce Recipe
Copycat Buffalo Wild Wings Recipe
Print
Homemade Brownies Recipe
Brownie Mix
2 cups

unsweetened cocoa powder

6 cups

all-purpose flour

8 cups

sugar

1 Tbsp

. salt

1 ½ Tbsp

. baking powder
Glass Jar
To Make Brownies with Brownie Mix
2 1/4 cups

, Brownie Mix

2

Eggs

3 Tbsp

, Water

2 tsp

, Vanilla Extract

8

x8 Square Pan or Cupcake Pan
Instructions
Brownie Mix
Mix all ingredients very well in a large bowl, to where there is no white showing. I like to use a whisk so the ingredients are almost being sifted.
Transfer to a large container with a lid to store.
Preheat oven to 325.
To Make Brownies with Brownie Mix
Grease an 8×8 square pan.
Combine all ingredients above and add to pan.
Bake for 20-30 minutes.
Disclosure: This post contains a link to an affiliate and support this site. See my Disclaimer Policy for additional information.