Easy Homemade Royal Icing Recipe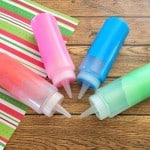 Learn how to make icing with this easy Royal Icing recipe. It is great to make for decorating sugar cookies!
In a large mixing bowl, add your powdered sugar.
Slowing add in your milk, corn syrup, and almond extract while mixing with a hand mixer on low.
Once all your ingredients are mixed well you can turn up the mixer a notch.
After about a minutes you should have a thick smooth icing.
Separate your icing into 4 small bowls, add a drop of your food coloring to each one and mix.
Carefully pour your icing into your decorating bottle or icing bags and have fun decorating!