Copycat Recipe: Bob Evans Wildfire Salad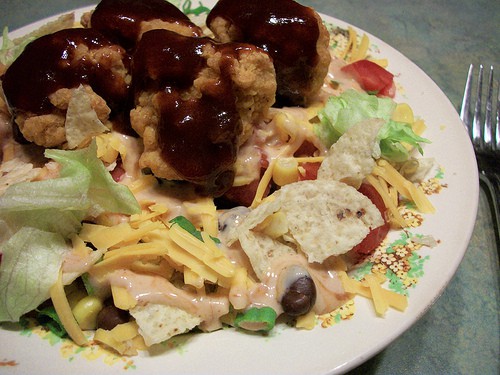 If you have ever eaten a Wildfire Salad from Bob Evans Restaurant, then you know how good the Southwest flavor is when it is mixed in a salad.
With this recipe, I went straight to the person who would know…the Manager. I asked him what the dressing was that was on the salad and he surprised me by telling me what the 'secret' ingredient is.
Try making this for your family and look at the savings at the end. BTW, I lost a few pounds on this a few years ago, by just eating one of these every night for about 2 weeks.
This will yield 4 giant salads.  It is a complete meal.
Bob Evans Wildfire Salad Ingredients
1 Head of Lettuce (chopped)
1 can, Whole Kernal Corn (drained)
1 can, Black Beans (rinsed and drain)
1 small bag, Torilla Chips
4 small Green Onions (chopped)
4 ozs, Cheddar Cheese (grated)
2 Roma Tomatoes (chopped)
1 small bag, Tyson frozen Breast Tenders (thawed and oven baked)
1 bottle, Bob Evans Wildfire Dressing
1 bottle, Marzetti Ranch Dressing
It has to be Marzetti Ranch, other Ranch dressing will give a different flavor. This is the Secret Ingredient!
Preparation Directions
Divide the lettuce into 4 serving bowls.  Add 2 tablespoons of whole kernal corn over the lettuce, and 2 tablespoons of drained black beans over the corn.
Add crushed tortilla chips on top of the lettuce, corn and beans.
Add about 1/4 of tomato and 1/4 of green onions.  Add 1 oz of cheese on top of each salad.
Mix 1 cup of Marzetti dressing with 1/2 Wildfire Salad dressing  and stir together. Pour mixed dressing on top of salad.
Add chicken on top of dressing. Pour more Wildfire Salad dressing on top of the chicken.
Restaurant At Home Comparison
That is about a 73% savings and I didn't have to wait to be seated!
At Home: $9.25 total (family of 4) with leftover ingredients!
Bob Evans: $8.29 each person = $33.16 total (family of 4)
Be sure to Pin on Pinterest to save for later!
by Savings Lifestyle: Andrea on May 02, 2011