Cold Stone Creamery's Birthday Club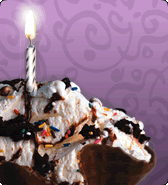 I like it, I love it, I want some more of it. No, you have not stopped at a Tim McGraw fan club site :) I bet he loves a little Cold Stone too!
Here are a few additional details on the Cold Stone Creamer's Birthday Club:
Membership
It's FREE and easy to join. Simply visit the Cold Stone Creamery Birthday Club page and submit your information.
Benefits + Rewards
You will receive coupons by email so you can "Like" or "Love" more frequently.
Birthday Freebie
Oh yeah, this is a good one! You will receive a coupon for a FREE Creation for your Birthday!
Additional Details
Nothing. Except this.
For my birthday a few years ago, my family threw me a surprise party. I had two cakes. One was a homemade chocolate cake made with love by my mother. The other was a Cold Stone Strawberry Ice Cream Cake made by some random employee. I'm not sure if it was made with love, but it tasted too good so I didn't care. You wanna talk about good – it was G – O – O – D, YUMMY!!!
Oh, and I love the Birthday Cake Ice Cream.
You can also follow Cold Stone Creamer on Facebook for promotions and company information.
Read about more Birthday Freebies, Clubs and Rewards in "30 Days to Celebrate"!