IKEA Family Card: Discounts, Free Coffee, Extra Småland Time + More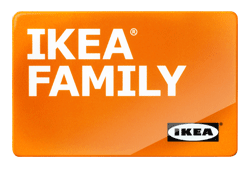 Did you know about the IKEA Family Card and all the benefits it offers? I just recently discovered this card when I was at IKEA. If you don't have a card already, you can sign-up online and pick up your card by scanning a quick pass that will be emailed to you at an IKEA Family kiosk during your next visit. Then show your IKEA Family Card and member receipt at the Bistro to be rewarded with a Free Frozen Yogurt!
More benefits of the card include:
Monthly product discounts (available in store)
Additional discounts in the restaurant
A chance to win a $100 IKEA Gift Card every time you scan your card in the store
Free coffee or hot tea at the restaurant
More Småland time for the kids – 30 extra minutes (capacity-depending)
PLUS membership gets you customized discounts based on your area. My monthly email from IKEA gave me two additional discounts specific to Cincinnati:
Get $5 off for up to four Pool & Rides Combo Ticket at Coney Island!
Get $10 off each Cincinnati Ballet ticket in the upcoming season!
Wow! Those discounts come just by showing your card or with a special code given to you by IKEA. What are you waiting for? Sign up today!
The Deals + Savings area shares more deals that you may like!