eReach Cincinnati Ballet Coupon: $10 off Giselle Tickets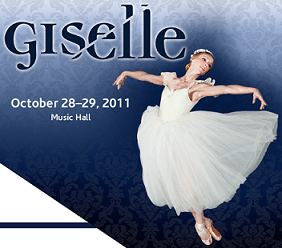 Giselle, the story of betrayal, forgiveness and love, is coming soon to Music Hall.  There will be one performance on Friday, 10/28/2011 and 2 performances on, Saturday, 10/29/2011.  I don't know Giselle but I have enjoyed the ballets I have seen.
Save $10 per ticket with this offer from eReach.  Use code 1112REACHGSL online at Cincinnati Ballet or call 513-621-5282.  Tickets range from $30-$80 before the discount.
Do you have a favorite ballet?
by Savings Lifestyle: Becky on October 19, 2011