Child Hunger Ends Here: Making an Impact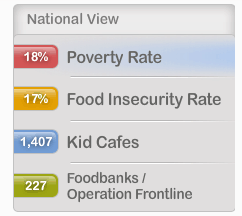 I have had several people email me since the creation of this blog sharing personal stories of financial struggle. I can so relate to them on some level. I'm sharing our own personal finance story to both inspire and encourage. There are always rough patches in everyone's life. A huge part in getting through those storms takes several things: faith, family, good friends and a community.
Community
As a little girl, I remember going with my mom somewhere and we brought home food. It could have been a church, I can't remember. I just remember picking up some basic essentials but the one thing I remember is peanut butter. No clue why I remember that specific item, but we got peanut butter.
As an adult, I had a conversation with my mom about a hard financial time in our lives. It was when I was around 5 years old and my dad lost his job. It was a struggle for them. Luckily there was that food pantry, food bank, whatever it was that offered our family items to ensure we were fed. That place existed because a community was there to serve.
That's how I have been affected. I did not go hungry in part thanks to the generosity of those organizations.
That's not always the case. Food banks are running scarce on supplies because we are in a recession. Families are finding it hard to provide for their own, let alone to offer to others in need. However, this campaign is different in that whenever you purchase a ConAgra Foods item, they are donating to support the Child Hunger Ends Here campaign.
I visited the Child Hunger Ends Here site to find some statistics for my own area (click "About Child Hunger" at the bottom, then select the US Map on the right to find your state's statistics).
When I see that, I see a call to act. I can DO something to make a difference in my community. On a national level (at the top), Feeding America feeds 14 million children annually! That's a lot of food and a lot of hungry children. Bringing it down to my community, there are two registered Feeding America Food Banks. Since ConAgra Foods is teaming up with Feeding America, I am going to support one of these food banks with my efforts.
What am I doing?
You know I'm a coupon/savings person. Of course you do if you're reading this :) I was invited to Liberty Heights Church in Liberty Township to share my coupon/savings skills (in a formal presentation, but sharing my skillz sounds less formal and more fun). I will be teaching a Coupon Workshop on Sunday, April 18 @ 6p at the church. The cost to attend is a $1 donation (taken during the workshop). All donations will go to the Child Hunger Ends Here campaign! Trust me, you will leave with a surplus of savings tips and answers to all of your questions!
If you are local to Cincinnati or Dayton, and would like to attend the Coupon Workshop, please complete this registration form to ensure there is a spot for you!
When people email me to say that they are affected by the economy, but because of what little I do here, they can not only feed their families but also GIVE to others I am humbled and inspired! Those personal stories are truly what helps me keep my focus and know that I am called to do this. Who knew a coupon could provide hope?? :)
Do you want to help? I listed several ways you can get involved in YOUR community in my previous post. Have a garage sale, a bake sale, use your experience like I am to raise money and awareness for this campaign.I believe our collective efforts can make a huge impact!
How are you planning to get involved?
By the way, I just got my Free Rally Kit and it includes COUPONS for my rally supporters!!! Visit Child Hunger Ends Here to register your rally and request your Free Rally Kit too (under the yellow "Get Involved" tab at the bottom)!
FTC Disclaimer: I am being compensated for my participation in this campaign. My thoughts, opinions and actions are my own. See my Disclaimer Policy for additional information.
by Savings Lifestyle: Andrea on March 30, 2010