Garmin 110 Forerunner GPS Watch, $99.99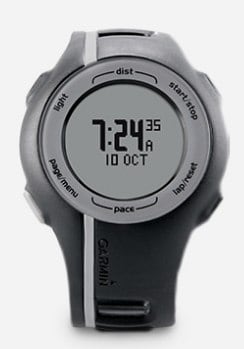 Grab a great deal on the Garmin 110 Forerunner GPS Watch for only $99.99 at the Microsoft Store. This price will be limited to the first 100 customers starting at 10 am EST. Then, the price will change to $129.99 ( a $199.99 Value). This watch has the following features:
GPS-enabled trainer watch accurately records your distance, time and pace
High-sensitivity GPS receiver stays locked on satellites, even near tall buildings or under tree cover
Rechargeable battery provides 8 hours life in training mode, 3 weeks in power save mode
Upload data to Garmin Connect site to view workout summaries, create goals and more
Add ANT+ heart rate monitor for heart rate-based calorie computation,Water resistant: yes (IPX7)
I have a Garmin and I love it for tracking my pace and my mileage for runs outside. I like this one since it also has a heart rate monitor too!
Includes Free shipping!
Disclaimer: This post contains a link to an affiliate. See my Disclaimer Policy for additional information.