Crayola Washable Markers, 8 ct, $1.97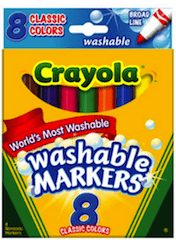 Amazon has a really great deal on the Crayola Washable Classic Color Broad Line Markers, 8 ct for only $1.97.  However, this is an add-on item which means that you have to have an additional $25 purchase for this price.
This item is always on my kids' school supply lists and normally the regular markers are at this price.  This is a good one to pick up if are going to purchase other items from Amazon.
This will ship for Free with Super Saver Shipping with orders of $25 or more. You can upgrade your membership to Amazon Prime and get Free 2-Day Shipping.
Disclaimer: This post contains a link to an affiliate. See my Disclaimer Policy for additional information. Prices are subject to change without notice from Amazon.com so please verify the purchase amount before you order.