6 Tips to Save on Back to School Supplies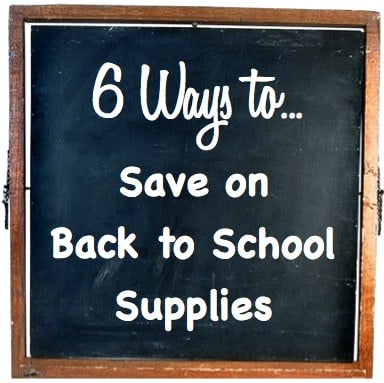 Back to school shopping can add up quickly! However, there are things you can do to minimize the cost. This school year, save yourself some money with the following tips.
Stick to the List
We always get a list with our boys' final report cards. If that doesn't come, check your school's website for an updated list, or even search your school's name and the grade to find the list from the previous year. I have found that the lists dont change that much, if at all.
Any item not on the list provided by your child's teacher probably isn't needed. We have had spacing issues in our boys' classrooms in recent years so the "extras" will probably be sent back home anyway due to lack of space in desks or cubbies. Let the kids enjoy picking out the items that are actually needed.
Shop at Home First
We always have several items that can be reused each year. Look in your stockpile for extra pencils, pens, unused notebooks, notebook paper, and more. I historically always buy extra during the upcoming Back to School sale shopping so we end up having a few items from the previous year even!
Don't forget to check your child's backpack from the last day of school as some items may be sent home and you can reuse them. Items like pencil boxes, pencil sharpeners, and scissors can probably be used for years before they need replacement.
Visit Non-Traditional Stores
Many parents immediately think of big box stores as the best source of school supplies. Remember to consider the offerings of drugstores, grocery stores and office supply stores.
We will have a full side-by-side comparison on the Back to School Shopping Price Comparison List so you know where the best deals are.
Watch for the Sales
We keep you updated on ALL Back to School sales! The Back to School Shopping price list includes prices from several stores. You will surely find a store included that is close and offering a great deal. I personally love to shop for the office supply store penny deals. I always get those items and have them on hand to replenish through the year.
There will be coupons available on school supplies. Popular brands like Mead, Bic, Crayola and 3M will publish coupons both in the weekly inserts and also on printable coupon sites.
Get a Tax Break
Does your state offer a tax-free holiday? Many states have tax-free holidays around the start of school. Make sure to check whether your state has a tax free holiday and go shopping during those times. Review our Back to School Tax Free Holiday list to find out.
Back to school shopping doesn't have to break the bank. Get your supply list, stick to it, and focus on saving money by following these tips. This school year might cost you less than any other.
Disclaimer: This post contains a link to an affiliate and support this site. See my Disclaimer Policy for additional information.