Nestle Family | Happy, Healthy Gathering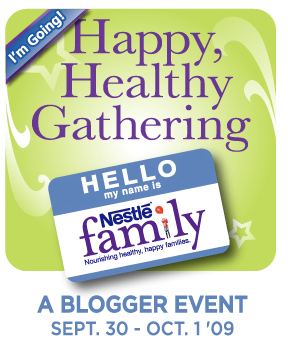 I am out… in California to be exact thanks to Nestle!
Nestle has invited several bloggers to California to learn more about the Nestle Brand. Our family uses Nestle on a daily basis. And, by daily I mean if I don't have my Coffee-Mate Chocolate Raspberry creamer in the morning, my day just doesn't go as smooth :) Not kidding..I love this flavor!
Of course, we enjoy many other products that Nestle manufacturers, but they aren't bringing us out here to tell us how much we love them. Although, I'm sure they will hear that. Our agenda has us meeting with the US CEO, participating in an interactive session with a Nestle Chef, getting tips to re-energize from a fitness expert…and just tons more! It will be a jam packed two days!
Oh, and I will get to, yet again, meet another celebrity. They call him Bunny… The Nesquick Bunny!! Yeah…my kids will be excited to see these pictures! The boys (and hubs) are already excited because Nestle is feeding them while I'm gone – YES!!
Nestle has sent Omaha Steaks to feed these hungry men of mine. That is an awesome gesture from Nestle. My husband is completely capable of cooking, but one less thing he has to worry about alleviates some stress from his day while I'm away!
I am posting live updates on Facebook or Twitter. I will post a recap of the event, and what I learned next week.
Read more about my thoughts and experience on this trip.
There are several other bloggers in attendance as well. Please check them out! Thanks for the list, Toni!
Toni (me): A Daily Dose of Toni ~ @totally_toni
Maria: Mom Talk Radio ~ @MomTalkRadio
Latricia: 1 Stop Mom ~ @1stopmom
Andrea: Mommy Snacks ~ @mommysnacks
Bridgette: The Not-So-Blog ~ @BridgetteLA
Melanie: Modern Mami ~ @modernmami
Jennifer: The Mom Salon ~ @mombloggersclub
Pauline: Classy Chaos ~ @OHMommy
Marie: Make & Takes ~ @makeandtakes
Matt: Matt, Liz and Madeline ~ @mattlogelin
PJ: Real Men Drive Minivans ~ @rmdmblog
Renee: Cutie Booty Cakes ~ @reneejross
Elizabeth: Busy Mom ~ @busymom
Liz: This Full House ~ @thisfullhouse
Amanda: Oh Amanda ~ @OohAmanda
Christine: From Dates to Diapers ~ @youngmommy
Greg: Telling Dad ~ @wombtobloom
Disclaimer: All of my expenses for this trip are paid in full. That does not affect the content I share with you here – the views and thoughts are all ME! My disclosure can explain anything you could ever want to know about anything that may need disclosing :)
by Savings Lifestyle: Andrea on September 30, 2009