(No Fry) Copycat Buffalo Wild Wings Recipe
Print This Post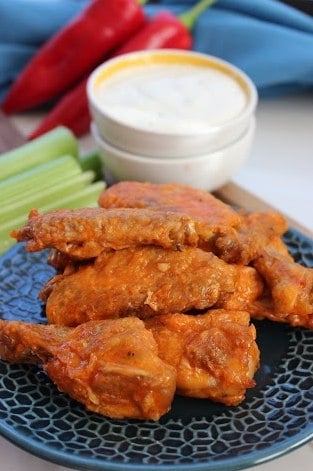 At least once a month we get "BDubs" or as many may know it Buffalo Wild Wings. My hubby loves the parmesan garlic, but I am a straight up medium wing gal myself. These taste so much like the medium heat that you won't be able to tell much difference. Make up some homemade ranch dressing and you're all set!
Copycat Buffalo Wild Wings Ingredients
2 1/2 lb, Chicken Wings
1 tbsp, Salt
1 cup, Frank's Red Hot Sauce
1/2 cup, Butter (melted)
1/4 cup, Wishbone Italian Salad Dressing

Copycat Buffalo Wild Wings Directions
If not already done, cut apart wings and drumettes.
Add salt to large pot of water and bring to a boil.
Boil chicken in water for 9 minutes.
Preheat oven to 450.
Dry chicken with paper towels and place on a rack on a baking sheet.
Bake in oven for 25 minutes.
Turn each piece and bake an additional 15 minutes.
Combine butter, hot sauce and dressing in a large bowl.
Take wings from oven and place in sauce and toss to coat.
Serve with celery and blue cheese or ranch dressing.
Be sure to Pin this on Pinterest to save it!
by Savings Lifestyle: Andrea on August 27, 2014