Homemade Pizza Rolls
Print This Post
Pizza rolls are a terrific after school snack but the frozen boxed kind are loaded with additives and preservatives. This homemade version takes some time up front but are easy to reheat and serve.
Double or triple the batch and store in freezer bags for a quick go to snack. You can customize these as simple or as full of ingredients as you like.
Homemade Pizza Rolls Ingredients
1/3 cup, Pizza Sauce
1/3 cup, Mozzarella (shredded)
1/3 cup, Diced Pepperoni
Pizza Fillings: Mushrooms, Black Olives, Onions
1 Egg
2 Tbsp, Water (for egg wash)
Homemade Pizza Rolls Directions
Prepare homemade pizza dough.
Preheat oven to 400°.
On a well-floured surface roll your dough into a large rectangle about 1/8" thick. Use a pizza cutter to cut rectangles to desire size.
Top each one with about a ½ tsp of sauce, a sprinkle of cheese, pepperoni, and other toppings.
Fold dough over and crimp closed on the three open sides, using a fork to press them together.
Add rolls to parchment lined or greased baking sheet.
I use a thin spatula to lift the rolls without breaking.
Brush each roll with the egg wash to give it a crispy and golden exterior.
Bake for 12-15 minutes until light golden brown.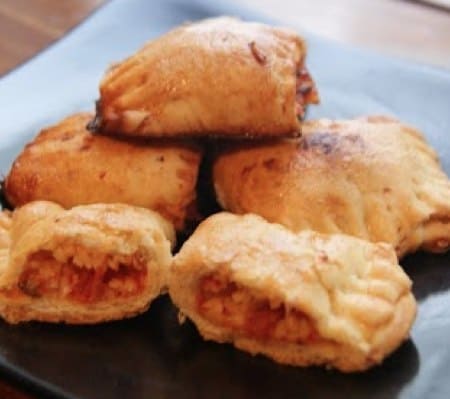 by Savings Lifestyle: Andrea on March 12, 2014