Cloudy with a Chance of Meatballs DVD, $4.99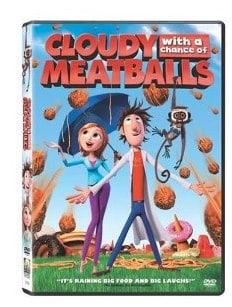 Amazon has a great deal on a really cute movie, Cloudy with a Chance of Meatballs DVD for only $4.99.  This is a fun movie to watch with the kids for a family movie night at home.
Also, this would make a great stocking stuffer.   I will purchase a new movie for each of my boys for their stocking.  Great to cuddle up and watch during Christmas break.
This will ship for Free with Super Saver Shipping with orders of $25 or more. You can upgrade your membership to Amazon Prime and get Free 2-Day Shipping.
Disclaimer: This post contains a link to an affiliate. See my Disclaimer Policy for additional information. Prices are subject to change without notice from Amazon.com so please verify the purchase amount before you order.
by Savings Lifestyle: Bridgett on October 25, 2013