Reader's Digest Magazine, $4.50 for 1-Year Subscription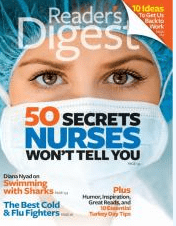 Grab a Reader's Digest Magazine subscription for $4.50. This is valid for a 1-year subscription which comes with 12 issues. Use promotion code 6835 during checkout to get this special pricing. Some information about Reader's Digest:
Contains digest and original articles on a wide variety of health-related topics. Also contains short abstracts of current medical progress in section entitled "News from the World of Medicine."
Pick up the Reader's Digest Magazine subscription HERE.
Disclaimer: This post contains a link to an affiliate. See my Disclaimer Policy for additional information.
by Savings Lifestyle: Andrea on June 02, 2013