Dr. Seus Horton Hears a Who DVD, $0.99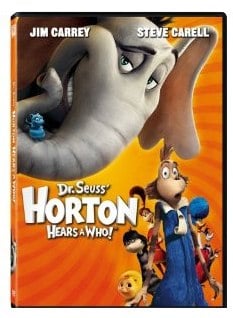 Right now Amazon an awesome deal on Dr. Seuss' Horton Hears a Who DVD for only $0.99.  It is on sale for $4.99 but use coupon code 4OFFDVDS during online checkout which will drop the price to $0.99.
You can use this coupon code to save on more family friendly movies.  You can check out the entire list here.  This one would be great to add to your family movie library!
This will ship for Free with Super Saver Shipping with orders of $25 or more. You can upgrade your membership to Amazon Prime and get Free 2-Day Shipping.
Thanks, The Censible Family!
Disclaimer: This post contains a link to an affiliate. See my Disclaimer Policy for additional information. Prices are subject to change without notice from Amazon.com so please verify the purchase amount before you order.
by Savings Lifestyle: Bridgett on May 23, 2013