Free $20 Old Navy or Gap Gift Card with Plink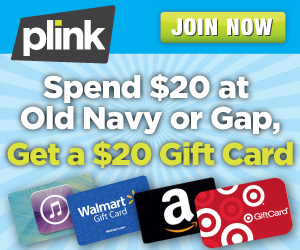 We have mentioned Plink before. It's an interesting way to earn points that you can redeem for gift cards. There is another offer to share for anyone interested in joining. You will receive bonus Plink Points to redeem for a $20 Gift Card! Here's how:
Make a minimum $20 in-store purchase at Old Navy or Gap by Sunday, April 14 (at 11:59 EST).
Link your credit/debit card to your Plink account to be eligible for the bonus points.
Your Plink Points will be awarded on Thursday, April 18.
Again, the 2,000 Plink Points is enough to redeem for a $20 Gift Card of your choice at places like Amazon.com, Target, Walmart, Kohls, and other popular stores!
Sign up for a Plink account here.
Disclaimer: This post contains a link to an affiliate. See my Disclaimer Policy for additional information.
by Savings Lifestyle: Andrea on April 09, 2013