Gymboree Deal: Free Bodysuit with $10 Purchase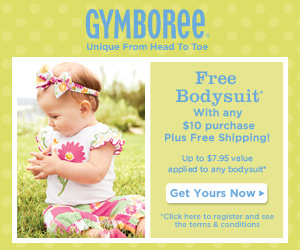 Right now, Gymboree is offering a FREE Bodysuit with a $10 Purchase ( a $7.95 Value). You will need to register with your email address for the coupon code to be emailed to you.  Also, the link is valid only for one click through so be sure to register!
This is such a great deal!  I have several baby showers coming up and their baby clothes are just too cute! Not to mention, they are well made and can be handed down to the next baby!
Find other Retail Store Coupons that are still active.
Use the Search Box on the site to find more as well.
Disclaimer: This post contains a link to an affiliate. See my Disclaimer Policy for additional information.
by Savings Lifestyle: Bridgett on February 28, 2013