Dr. Seuss' Horton Hears a Who, $3.99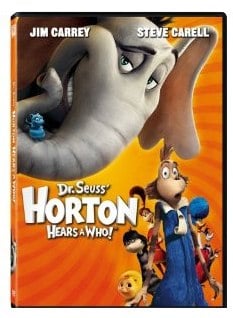 Here is another great video deal on Amazon! Grab Dr. Seuss' Horton Hears a Who for $3.99 on Amazon right now. Also, Despicable Me is on sale for $5.99! We are never sure when Amazon will raise their prices, so grab them now if you want copies!
This will ship Free with Super Saver Shipping! So be sure to check out all the other Amazon Deals we have posted and see what else you may want to purchase to get your total up to $25. Don't forget to grab the Amazon Coupon too for $5 off a $25 purchase!
Disclaimer: This post contains a link to an affiliate. See my Disclaimer Policy for additional information.
by Savings Lifestyle: Andrea on November 19, 2012